So why the Three Sixty name? As the blog itself explains it's all about providing a broad and insightful view into all the many topics that make up location:
We aim to cover all the location-related topics so that you can get the full picture of the world of location. That means we will not only look at location from our own point of view, but also through the eyes of independent contributors, including experts in cartography, connected driving, design and much more.

And this is why we decided to name our blog Three Sixty. We want to build a social platform for news, views, and conversations that provide a 360-degree perspective of the location business. The name also relates to the roots of location, back when people used the compass and its 360-degrees to map the world around them.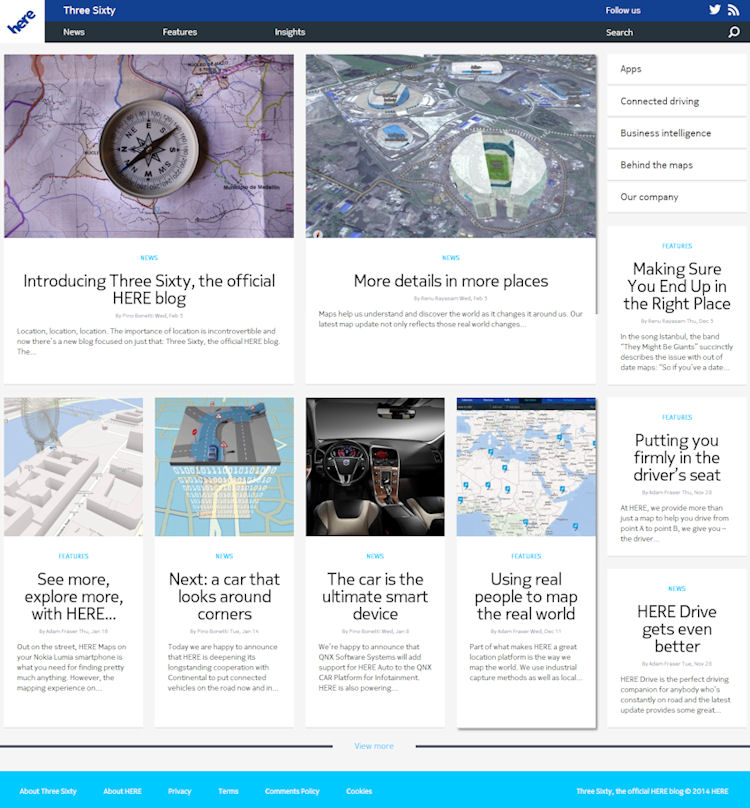 The new blog can also be seen as early preview of the sort of marketing and communications actions that will be necessary when Microsoft's acquisition of Nokia's Devices & Services business is completed. Previously, topics and posts around HERE's activities have published on the Nokia Conversations blog. Nokia Conversations, which has always been device heavy, will presumably move into the Microsoft purview, hence the need for a new home for the HERE blog.
In terms of current Windows Phone activities it is understood that the development and distribution of HERE apps for Lumia devices (i.e. HERE Maps, HERE Drive, Here Transit) will pass to Microsoft. However, the HERE platform (maps, places, navigation, traffic, and other services) will remain with HERE. In other words the client apps are going to Microsoft, but the platform very much stays with Nokia.
There will be close collaboration between HERE (Nokia) and Microsoft, with the latter having direct input to the future development direction of the HERE platform. It is now clear, if you want to keep up with the latest details of the HERE platform, then the Three Sixty blog should be your first port of call.