The good news is that, to a greater or smaller extent, it can - if you know what to do. In no particular order, and putting in thoughts to indicate where an S60 device can be superior to the iPhone as well (indented):
---
Pull up a full-screen photo or web page, then turn the iPhone sideways and watch the photo or page adjust to the new orientation

This one's easy, but it does depend on which S60 phone you own. The Nokia E66, N95, N95 8GB, N82, N96, N79 and N85 all have accelerometers that accomplish the same trick, but you do have to have 'Settings|General|Personalisation|Display|Rotate screen' set to 'Automatic' and, in the case of the N95 and N95 8GB, need to have newer firmware installed (at least v30 and v20 respectively).
For some other modern S60 phones (3rd Edition FP1 and above, with no accelerometer), rotating web pages can still be done, though slightly less intuitively, by diving for the menu and using 'Rotate screen'. Photos, once on-screen, can be rotated by pressing '3' or '*' (depending on the age of your device) - use this 'full-screen' for greatest effect. I know, I know, not really such a party trick, but at least you can fake it 8-)
Advantage S60: Photos can also be edited (in the Nseries Gallery app, at least), taking out red-eye and adjusting colour and contrast, for example. Photos can also be emailed or sent via Bluetooth, both at full original size, whereas the iPhone currently resamples every image down to VGA for transmission.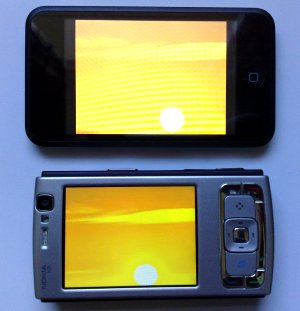 Screen size and intensity are the only real issues here
---
Browse round a zoomed out web page and then zoom in to the exact bit you want

Another easy trick to replicate. You can't tap on your S60 phone's screen, of course, but you can achieve almost exactly the same effect with judicious use of the '8' key (short for the 'Page overview' function on the menu) and the d-pad. Start looking at a web page in this '8'/overview mode, move the highlight using the d-pad and then press in the d-pad to bring up the right bit.
Advantage S60: Although the '8' trick is nowhere near as intuitive as Safari and the iPhone's multi-touch, S60 Web scores when it comes to multimedia and interactive content as almost all modern S60 phones have Flash built into their web browser and so can view Flash content/videos, whereas the iPhone's Safari simply shows a boundary box in each case.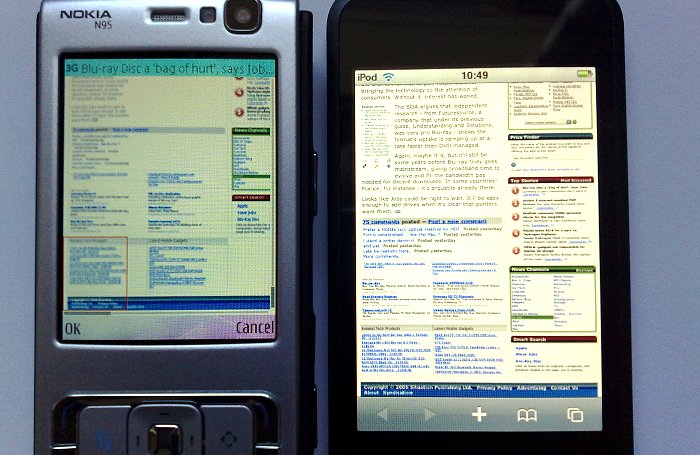 [NB. Note that the intensity difference between the two device's screens isn't as huge as the photo makes out - though the iPhone's screen is brighter...]
---
Show a 5 day weather forecast

There's nothing magical about the iPhone's excellent little Weather applet - it simply scrapes the relevant forecast information from Yahoo! And there are numerous weather applications (both Java and native), widgets and mobile services for S60, all of which do more or less the same thing.
For free, and armed with a modern S60 device (with Web Runtime built-in), it's easiest to start at http://widgets.nokia.mobi/ on your phone - this installs Weatherbug's rather iPhone-like (and pretty) widget. For the full weather experience though, it's worth plumping up for the comprehensive Handy Weather.
Advantage S60: Not only does Handy Weather give you a pretty 5 day forecast, it will even display the next day's weather as a screensaver on your phone without you even pressing a button or tapping anything. And it will run on every S60 phone, with no special requirements.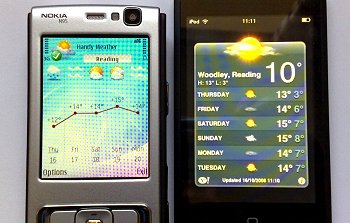 Same info, different presentation style?
---
Browse through and search YouTube videos, playing them full-screen

The famous example is the skateboarding dog, of course, but the truth is that (almost) all YouTube content is now available through the iPhone's built-in YouTube client. This hooks into special H.264 versions of each clip, created after upload by YouTube's servers. Although each modern S60 phone can play H.264 video back, there's no way to access these versions, sadly.
Although you can play YouTube videos back within the YouTube web pages themselves, using the default Flash video streams, you'll need quite a recent device and recent firmware (similar to the auto-screen-rotation list above), and the final experience is quite slow because of the speed of Web itself and all the rendering needed. Another option is to use the official Java YouTube client, but this accesses low grade 3GP (H.263?) sub-QVGA resolution video clips. You can go full-screen in RealPlayer if needed using the '2' shortcut, but the video quality is significantly less than viewing the higher resolution, better-encoded H.264 streams in Quicktime on the iPhone.
As on the iPhone, the best YouTube experience is obtained using a dedicated (native) client. Except it's not built-in with S60 - you have to download Mobitubia for yourself - it's freeware. Once installed, it's almost the equal of the iPhone's YouTube client. Another YouTube client for S60 is emTube, officially discontinued but still available here, for example.
Advantage S60: one big plus for the two S60 clients are that you can save YouTube (Flash Video) clips onto your memory card for playback later when you're offline. Or even archive them for posterity.

---
Buy music from iTunes over the air

Got a song running through your head? With iTunes on the iPhone, you just search for it and tap on 'buy'. Thing is, the same's also true for many modern S60 phones, anything from the N82 onwards, with Nokia Music Store (in selected countries, but then iTunes has limitations too) providing the same over the air satisfaction, even if the way Nokia's solution is implemented as a web site rather than a native client can be a little.... slow.
Both systems rely heavily on Digital Rights Management (DRM), which is a real pain and not a route you really want to go down, but it's acceptable for quick gratification when you really, really want a track in a hurry.
Advantage S60: In addition to playing back DRMed WMA music from the Nokia Music Store and vanilla AAC and MP3 tracks, S60 also supports vanilla WMA and eAAC+ format music, so if you have music from many different sources then they'll play fine. Just don't try and mix iTunes DRMed and Nokia Music DRMed files!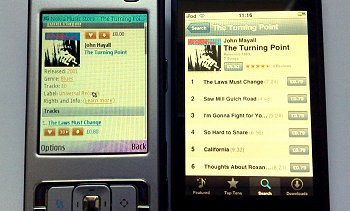 Not that I'd buy often from either - I hate DRM! 8-)
---
Flick between full-screen photos with a swipe of the finger, then zoom in with multi-touch finger splay

Now, without a touch-screen, you can't swipe on S60, of course. Not yet, anyway. But on Nseries phones, the Gallery application will let you, in (rotated) landscape mode, flick from photo to photo with just left/right on the d-pad. Almost as good and almost as satisfying. And the 'volume' keys on the side of the phone double as zoom controls, albeit not as fast or as smooth as on the iPhone.
On non-Nseries phones, you can do the same photo-flicking thing using the third party Resco Photo Viewer, reviewed here. This also has the advantage of smoother and faster zoom in and out, using the '6' and '7' keys. Again, not as neat as on the iPhone, but arguably as fast.
Advantage S60: Using either Nseries Gallery or Resco Photo Viewer, there are oodles of editing functions, ranging from brightness/contrast adjustment to clip-art addition, cropping, sharpening, etc.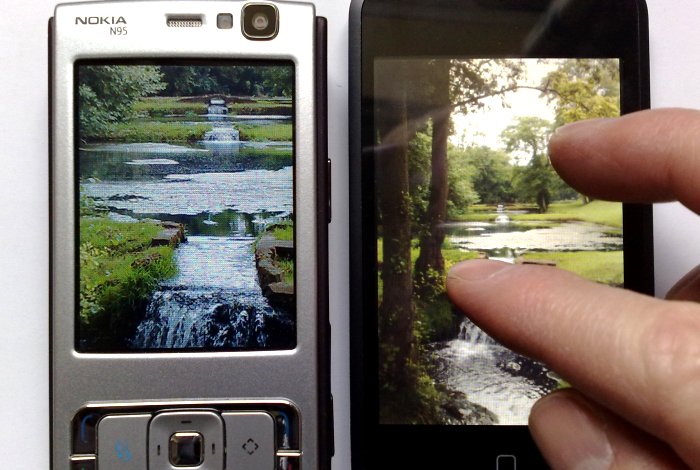 [Here, I'd already zoomed the N95 photo in using the up/down side controls and am pictured 'splaying' to then zoom the iPhone version... NB. Another case of the camera lying a little, the screen colours from the N95 don't seem to have photographed as well, again probably because of light levels. ]
---
Instant access to a huge gallery of native applications, many of which are free or nearly-free

OK. You've got me here. This is an area that Apple utterly nailed. Everything native. Everything instantly available over the air. All (free) application updates fully notified and also available immediately over the air with full changelog for each.
Nokia will point to its Download! application on each device, but although this is a starting point, it never becomes much more. Once past a few Nokia home-grown staples, you're into fluffy widgets, Java games and pointless 'security' software. Admittedly, some native star applications are present, such as Mobipocket Reader, Worldmate and most of Epocware's great 'Handy' catalogue. But that's where it stops. And far too many demo/trial applications are simply shown as "Price: 0", which is very, very misleading.
No Advantage S60 whatsoever here. Zip. 8-)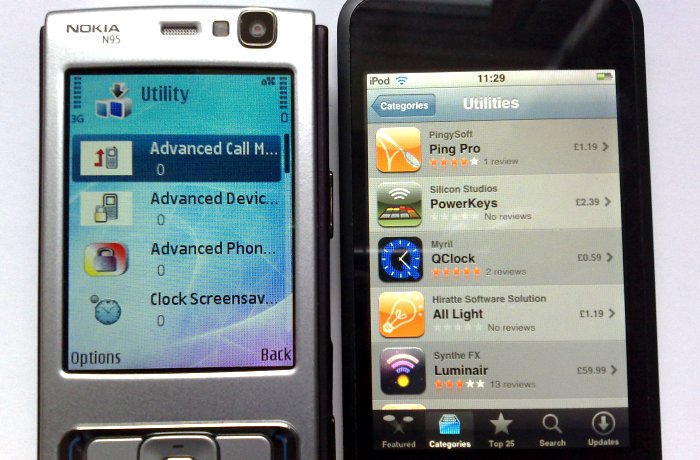 Why can't my S60 phone do that?

Leaving aside the last (rather bitchy, I admit) section, the point of this feature has been to show that most of the things the Apple iPhone (which I also rate highly, with reservations) loves to show off with can also be done with an S60 phone. Albeit usully less intuitively and albeit sometimes with a bit of third party software, but nearly always with more actual functionality to back up the UI trick, once you look beyond the basics.
Why can't my S60 phone do that? It probably can. See above, rinse and repeat.....
Steve Litchfield, All About Symbian, 20 October 2008