Note that in order to be considered for our Top 20 Freeware, an application must:
be either free or at least 100% fully working in demo form, with no time restrictions

be (at least partly) optimised for S60 5th Edition, for the screen size on the i8910 HD and for the use of the touch-screen
not involve circumventing or hacking of manufacturer or developer certificates
work specifically on the Samsung i8910 HD, with no showstopping issues

1. Google Maps
The first really huge third party S60 application to get a full touch makeover, this works superbly on the i8910 HD, in both landscape and portrait modes, and with touch-panning of maps and of the StreetView displays (in countries where this is supported). The latest version 3.2 also includes both Latitude and Layers support.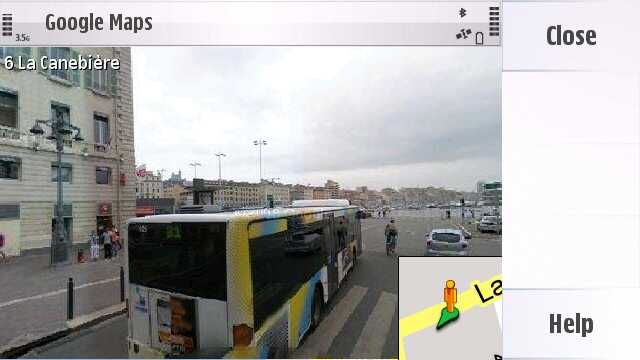 Get it at m.google.com in Web on your phone.
2. YouTube
Yes, Google again, this time through its YouTube arm. And the i8910 HD is full recognised by its mobile site, offering up (at the time of writing) v2.2.9 of its S60 client. Just as on the Nokia N97 and 5800, videos play with the toolbar visible, rather disappointingly, and there's no way to log in and set favourites or interact with videos, but I'm sure this deficiency will be rectified in the future. Videos play at QVGA resolution, scaled up, currently. Good enough for casual viewing.
Get it at m.google.com in Web on your phone.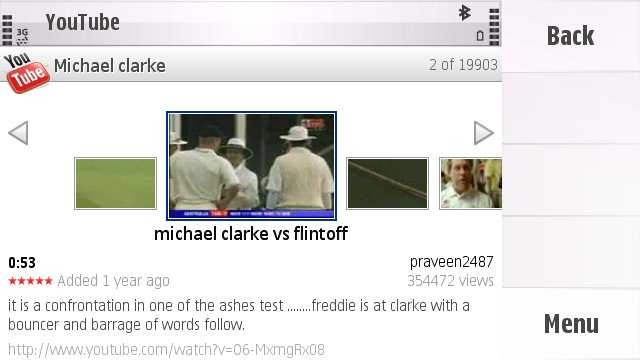 3. Opera Mini
Why on earth would you want another web browser? You have S60 Web, after all? Moreover, why would you want a mouldy, ol' Java app? Because it's faster, slicker and more frugal than Web, that's why. Once you get past the initial Java hand-holding 'Do you want to go online?' questions, and leaving aside the klunky Java way text entry is approached, Opera Mini, quite simply, rocks. Backed up by special proxy servers, even huge web pages like BoingBoing can be opened in just a few seconds and browsed around with full touch-panning. If you find S60 Web too slow for tradition text-based pages then Opera Mini is a definite candidate, especially if you're not on a flat rate data plan.
Get it from mini.opera.com on your phone. Some people have found that Opera Mini is glitchy on the i8910 HD, but it's been behaving itself for me.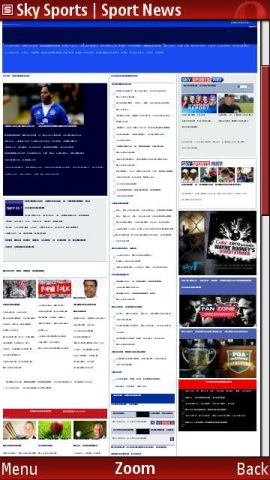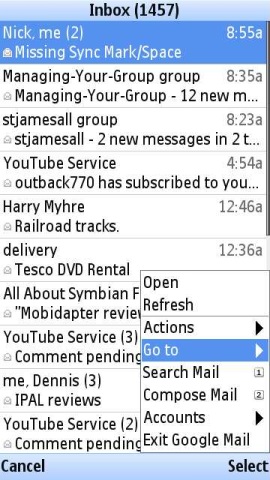 4. GMail
The second big Google application, GMail is Java-based, which means that you need to take a trip into Settings | App Mgr | Installed apps and turn off the S60-supplied navigation and function 'keys'. That done though, you've got a touch-enabled, full-screen view into your GMail, complete with all features, such as 'Stars', 'Drafts' and your full list of emailed contacts.
Get it at m.google.com in Web on your phone.
5. AccuWeather
One of S60's best kept secrets, AccuWeather was always a useful little widget to have installed. With the advent of S60 5th Edition and touch control, it has been dramatically improved, now with hourly and daily forecasts, weather charts, maps, and even GPS integration, to query the exact forecast for your current location - and all for free, quite amazingly.
The only catch is that AccuWeather's widget can be hard to find now that Nokia has been changing its Download servers around and while the USA-centric AccuWeather themselves support so many platforms that S60 gets left behind. It's archived and up for download on many sites right across the web, but it's here as well, accuweather.wgz (1.3MB).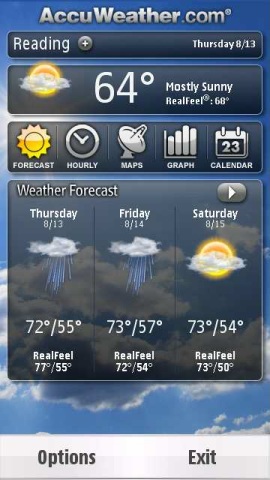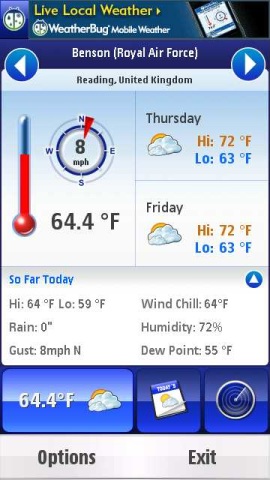 6. WeatherBug
With possibly even more information than AccuWeather, this is another USA-centric (but global) weather service whose data has been officially scraped by a Web Runtime widget, producing WeatherBug for S60 5th Edition.
As with AccuWeather, the source's web site is appallingly American, but you can still get it officially from WeatherBug's server here (1.1MB).
7. BBC iPlayer
For UK residents only, of course, and almost certainly only really practical while in Wi-Fi range, this presents the best of the BBC's TV output in very high quality, in streaming form. There are hundreds of programmes on offer, mostly from the last few weeks, plus a number of radio programmes as well, better for listening on the move since the bandwidth requirements are somewhat lower.
Head straight over, in Web on the i8910 HD, to www.bbc.co.uk/mobile/iplayer/iplayer.wgz and install the widget.
[Interestingly, the BBC may allow the widget to 'Download' programmes onto the i8910 HD at some point - the OS certainly has the DRM capabilities - but it's up to them to 'flip the switch' on this.]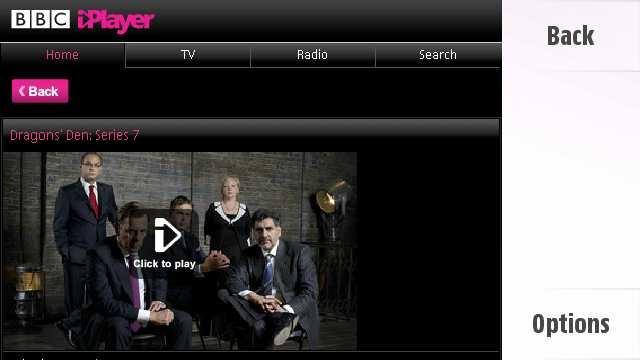 8. Files on Ovi
A terrific way to keep your important (Windows or Mac) desktop folders automatically backed up and to have remote access to your master documents through the phone, Nokia's Files on Ovi is seemingly manufacturer-agnostic and is fully compatible with the Samsung i8910 HD. And it's also now completely free!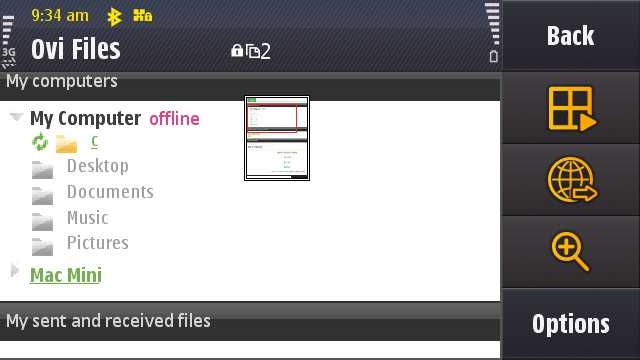 Although you can simply access your 'Files on Ovi' through the mobile web site, it's tedious having to keep signing in, which makes the Files on Ovi widget so important, since it handles this for you. In order to get the widget, either sign in to the mobile site, files.ovi.com (and yes there really are half a dozen 'secure' warning dialogs to step through) and then look at the bottom of the home page - OR (better) - type in files.ovi.com/wrt/fl/downloadw into Web and grab the widget directly.
9. Tweets60
Yup, it's a full blown Twitter client and a whole heap more friendly than using the Twitter mobile web site each day. Not in the same league as Gravity but then this is free, after all. The functionality's mainly there, with the usual columns/lists for tweets, replies and direct messages. Sadly, there's no web-like scrolling, you have to use the fiddly scroll bar.
Get it from here.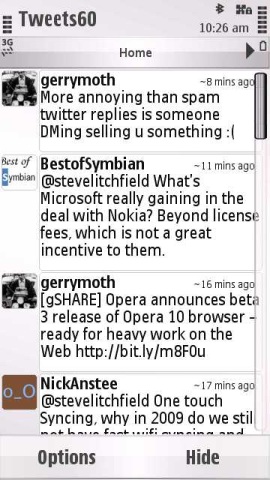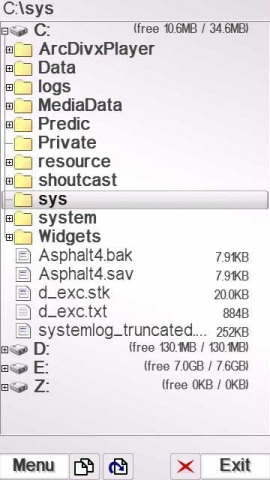 10. X-plore
This is the classic third party file manager for S60, reworked a little for touch on the large screened i8910 HD. It doesn't use the S60 style guide much and everything's done its own way - but it works and does the job nice and quickly. I especially liked the way folders could have their contents summed up in 'Details'. Although shareware, the unregistered version has no time limit, so I've allowed it into this list.
Get it here.
11. Fring
The first of several S60 5th Edition-optimised VoIP and chat clients, Fring is super slick in every degree and scores by also including Skype integration, something which other clients omit. The guys at Fring also seem incredibly keen at getting onboard with the very latest handsets and they deserve support, if only for that.
Get it by going to www.fring.com in Web on your phone.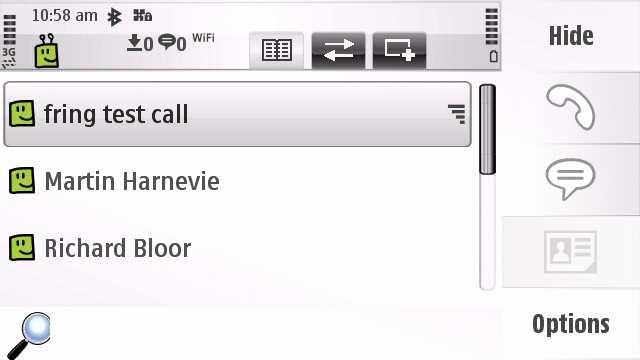 12. Palringo
Aside from Skype, its one omission, this is perhaps the ultimate instant messaging client for S60, building in every other chat system, including (unusually) Facebook Chat. There's GPS support too, so that your contacts can see where you are in the world.
Get it from www.palringo.com in Web on your i8910 HD.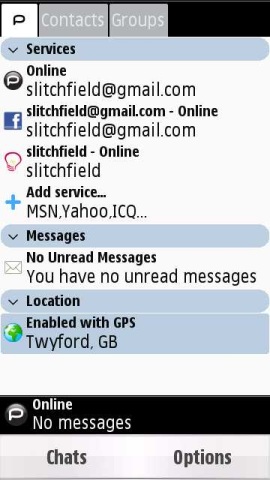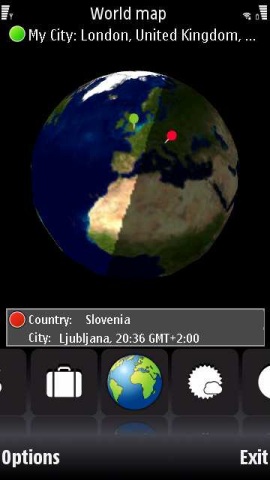 13. Psiloc World Traveler
Similar to Worldmate (which isn't fully i8910 HD compatible), this offers free travel related functions, including daylight globe, currency conversion and 5 day weather forecast. It's all rather slick and, like Worldmate, Psiloc probably plan to make their money on the premium flight information, coming soon. The rest of the application is free, however, which is why it's included here.
Get it from here. Note that the install is incredibly slow - I'm guessing the SIS file is very complicated and has all sorts of language options which need to be worked through by the OS!
14. Paint Pad
A rewritten version (allegedly) of a Forum Nokia source example, Paint Pad does a good job of standing on its own two feet, with proper load/save/background/send options, plus many more painting tools.
Get it from here (or, if you have trouble with the official Nokia link, then here)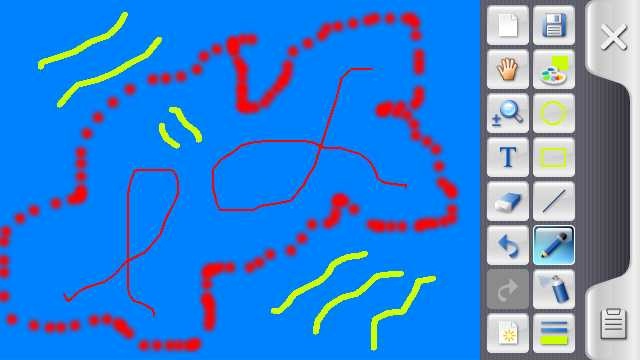 15. SMS Preview
Arguably something of a kludge to get around the way message notification on S60 works, SMS Preview pops up a window into the foreground when you receive a text message, saving you digging into Inbox, or similar.
Get it in Web on your i8910 HD by going to m.smspreview.mobi . Interestingly, it proved troublesome on my device. Your mileage may vary!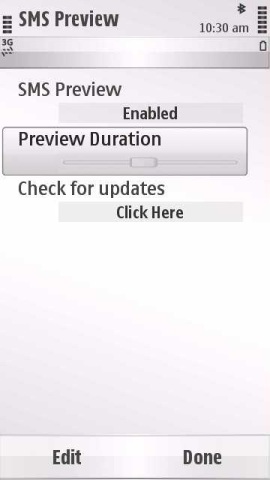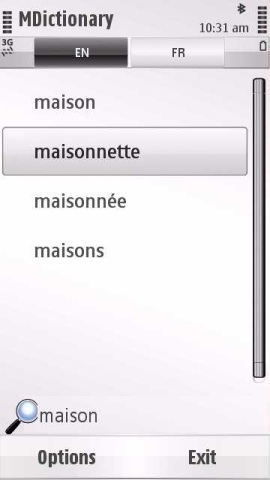 16. MDictionary
With the i8910 HD now sporting the Collins CoBuild dictionary application in its firmware, MDictionary isn't such an essential download as it was... but it's Open Source and supports a number of language pairs and for that worthy reason I'm going to give it a plug here. It's a little quirky on S60 5th Edition so far, but it's usable.
Get it from here.
17. Qik
This well known live video capture utility is also now available for the Samsung i8910 HD. The quality of its output usually disappoints (relative to capturing video with the native Camera app), but hey, if you need to stream live then you need to stream live...!
Get it here.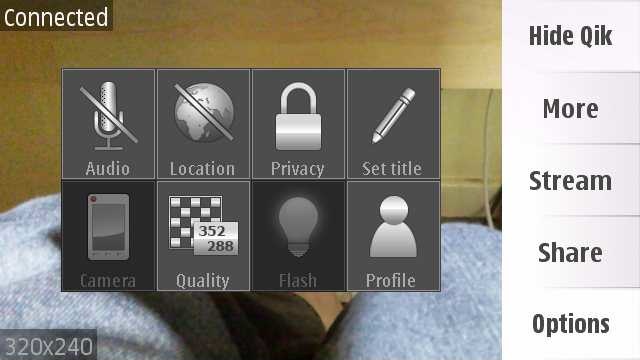 18. TFL Tube Map
A little specialist, to be sure, it's only appropriate to someone visiting London, but it's a slick conversion from paper to pixels (as the company name suggests). Browse around the London tube network without having to remember to bring your paper tube map.
Get it from here.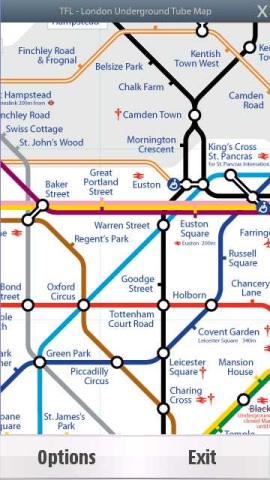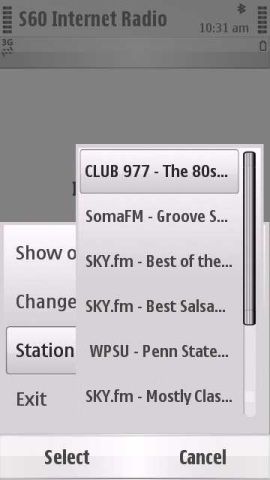 19 S60 Internet Radio
Nope, not Nokia's nice, friendly version, which has yet to be ported to S60 5th Edition, apparently. This is the original Shoutcast player from a few years ago. It's been minimally updated since, but does work. It only comes with a handful of Shoutcast stations, but it's reasonably easy to create .pls (playlist) files yourself on the desktop and then copy these across to a /shoutcast folder on the device.
Get it here.
20. The Musician's Swiss Knife and Chords
Two sister apps from the same developer, both shown/grouped here. The perennial BPM counter, metronome and note generator, implemented here in full-screen Java. Impressively, there's a range of different instrument tones that can be generated. And... a guitarists chord database deluxe - just pick the root chord and the variation and the fingering is shown - and can be played by tapping on the plectrum. There's even a choice of four guitar tones, but I was disappointed not to be able to scroll up the neck to see the various inversions as well. Still, for a freebie....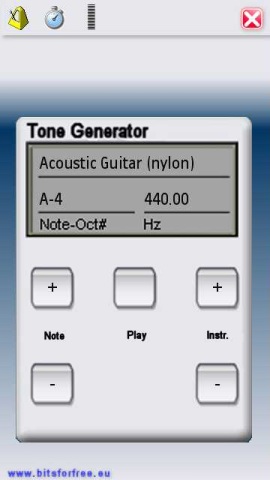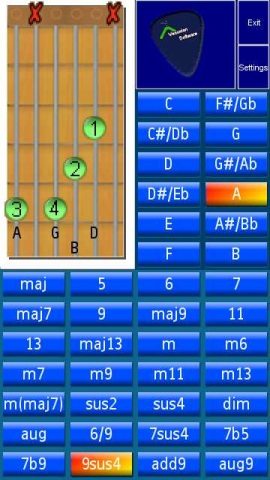 Get Musician's Swiss Knife from here and Chords from here.
---
As ever, there were some apps 'bubbling under' the top 20 and worthy of mention and a link. Here are the next half a dozen:
21. Time Machine
One of a host of S60 5th Edition utilities that do one job and do it competently, Time Machine is a simple count up/count down stopwatch with a retro feel. Shame there's no tenths or hundredths of a second readout though.
Get it from here.
22. JabpLite
Never mind the Java-base, the slightly odd interface at times and the need to do a one-time Settings change to get rid of the virtual (Java) d-pad, this is still a top little bank account management application for just about any smartphone of any platform. Written to adjust to different screen sizes, it works very well on the Samsung i8910 HD.
Get it from here.
23. Mobbler
This is a Last.fm radio player and 'scrobbler' project for S60 smartphones. It allows you to listen to your Last.fm radio stations and to scrobble (share) tracks played using the S60 Music Player. Worthy of support.
Get it from here.
24. Sky by Mobile
This lets you, as a Sky subscriber, access your Sky box remotely, to browse the schedules and set up programme recordings.
Get it from mobile.sky.com/skyapp/skyapp.asp in Web on the phone.
25. JoikuSpot Light
Perhaps a pinnacle of modern software engineering, JoikuSpot turns your S60 phone and its data connection into a mobile Wi-Fi hotspot for other devices (of yours) to hook into. The premium version has loads more functions and security, but for cheap, cheerful and ad-hoc use, the free 'Light' version does very well, letting you surf away on your laptop, for example, using (in this case) the i8910 HD as the hotspot. Yes, Samsung PC Studio also allows through-Internet connections, but isn't is just so cool to be making your own Wi-Fi hotspot?
Get it from Joiku's download page. NB. I had a few problems with this on my i8910 HD - am I alone?
26. Solitaire
Ostensibly a coding example from Forum Nokia, this is also a very playable little finger-optimised solitaire card game.
Get it from here. Once unzipped, you need the .SIS file in the /sis folder.
---
Steve Litchfield, All About Symbian, 13th August 2009