Lee Williams, like many of the attendees at this year's Symbian Smartphone Show, has a quiet confidence around him; but in his case it's tinged with a little bit more excitement, and perhaps trepidation. The announcement of his role as the Executive Director of the Symbian Foundation, on the second day of the show, adds a little more reality to the Foundation, and provides a very visible point of contact for the media.
Immediately after the news of his nomination, Williams spoke on stage about the four beacons that he saw as key areas for the Foundation going forward. First is providing the "most complete and competitive offering available in the mobile space", second is to create a web run time solution, leveraging Nokia's Qt cross-platform software environment, to enable the delivery of rich Internet service applications, third is to create a hardware abstraction layer for the Symbian Foundation platform, and fourth is to nurture the ecosystem around the platform.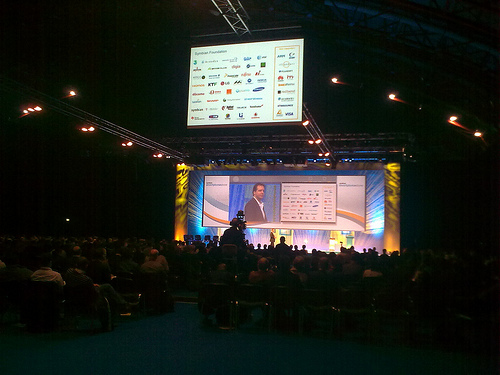 Williams is already well known in the industry for his current role, as the head of S60, and his appointment to the Symbian Foundation might raise a few questions about Nokia's degree of influence in the new organisation. However, on making the announcement, the board members of the Foundation were at pains to point out that Williams had been selected only after a comprehensive search. Moreover, the issue here is more one of perception than experience; it is hard to think of someone more qualified to take on the job of re-unifying Symbian's disparate components. The operational experience and knowledge Williams has in leading S60 is a very good fit for his role in the Foundation and is likely to be crucial in ensuring a smooth and speedy transition to the new framework. Politically, it might have been better to better to nominate someone from outside Nokia to lead the Foundation in order to reinforce the messages of independence, but at this crucial early stage in the story it is sensible to have the practical trump the political.
Nokia currently has, through their share holding and shipment numbers, a rather dominating role inside Symbian Ltd. While in one sense this has been the keystone of success for Symbian, it has also been a negative mark against Symbian for potential licensees - why use an OS that your biggest rival dominates? Once the Foundation is in place, Nokia will still, for the foreseeable future, be contributing the majority of investment and engineers. It will, after all, inherit the engineers working at Symbian and add these to those already working on S60. Furthermore, despite Nokia's best intentions, the licensing of S60 to other manufacturers has not been as successful as originally envisioned. So why will it be different this time around?
"The main difference is that everyone involved can be seen as owners in their parts of the Foundation," explains Williams. Be it code, marketing, or otherwise, these portions can be driven forward to their satisfaction and with their specialist knowledge. The UIQ interface is a good example here, and much of what was learned in that UI can be applied to the upcoming unified platform that will be "the prime Open Source product".
In practical terms, the platform will be split up into a hundred or so 'packages'. Each package will have an owner responsible for the design, quality and future plans for the code within the package. Package owners will be responsible for co-ordinating with potential contributors and other package owners. Initially, package owners will be individuals from companies that contributed the respective code. As I raise an eyebrow at this phraseology, Williams notes "Perhaps I should use the term 'guide' and not owner?The concept of ownership here is in the Open Source concept, not in a proprietary business sense with any sort of territorial ideas." Clearly, Nokia will necessarily 'own' many of the packages, but a more even spread among Foundation members is a clear target and something that Williams considers a "key metric" for measuring success.
The governance of the Symbian Foundation is also crucial in this area. For example, Nokia will only have one of eleven seats on the board of directors and it is one member, one vote. Five of the seats on the board are occupied by device manufacturers (top 5 based on number of shipments) with the other five coming from other Foundation members (based on experience or contribution) and then the Executive Director. The Foundation's councils, which will drive critical operative decisions, will be made up of board member companies and other interested parties, again only one seat will be available per organisation. Other attributes, such as odd number voting in the councils, are designed to ensure that decisions get made rather than being deadlocked. There will also be a recognition that different Foundation members will not always agree. Clearly some of the details will be worked out in the forge of reality, but there is a clear intent to design the Foundation to be fit for purpose.
What about moving in new directions? Thus far the Symbian OS has been focussed on mobile phones - is there a potential for a move into MID or PND devices? It is really too early see much more than the possibilities here - there's a certain convergence going on between these types of device anyway. But Williams does point out that the advantage of the more open approach means that anyone is free to take the platform in new directions.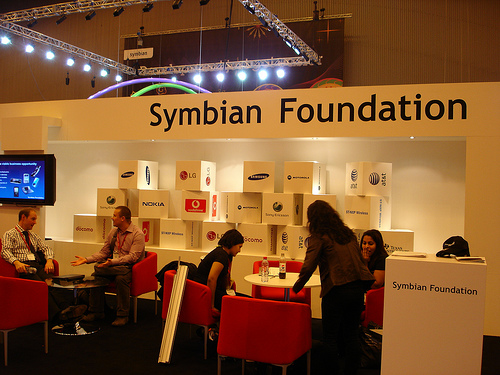 A key part of the Symbian Foundation is the reunification of the user interfaces. UIQ appears to have run its course, but its market need is still present and MOAP-S, arguably Symbian's greatest success story, is still very much alive. With the unified UI being based on S60, where does that leave users of alternative interfaces? The Foundation is "aiming for a lot of consistency", and the advantages to having a single platform are obvious. However, it is worth underlining that uniformity is not going to be mandated, but rather encouraged through the choice of the EPL license, the certification process and its inherent advantages - it is the carrot rather than the stick approach. Williams also thinks that things have changed since Symbian's early years: "I don't think you need to enable fragmentation in the market to succeed." Recent years have seen Symbian's UIs become more flexible in scope and have converged in terms of functionality. UIQ added support for softkey-based phones, S60 recently added support for touch input - differentiation has moved further up the software stack, away from the UI.
Of course, the directors of any organisation have a significant effect on the day to day operation and philosophy of said organisation, so what can Williams bring to the Symbian Foundation? What makes him, and therefore the Foundation, tick?"Pervasive personal computing would be the first," says Williams. The idea of having a computer with you at all times, that is context aware, and can help you, is a strong belief that he holds. The second idea? "The power of collaboration, to an almost extreme level, is something that I strongly believe in," which fits in nicely with the goals and expected daily running of the Foundation. "Healthy dialogues should help everyone to achieve more than they can do on their own."
What about outside of Nokia and smartphones? What companies does Williams admire, and perhaps like to work for? "Proctor and Gamble," after a few moments to think about it. "They've a very deep consumer focus, and that's over a very wide product range. I like that focus, on delivering what the consumers want." And if Williams was in the start-up world? "I'd probably be in the west coast of the USA, probably in some form of technology start-up, but one with a lot of [positive] environmental impact."
The current status of the Symbian Foundation is still in a legal 'pause' while everyone waits for Nokia's acquisition of Symbian to be completed and the Symbian Foundation set up. Thus, many of the more detailed questions that people want to ask are either (a) stuck in that legal minefield, or (b) just haven't been decided publicly yet. What are the next few steps now, that Williams can influence?
"We can't lose sight of the fact that companies and their product lines continue to ship, and we need to focus to make sure that remains the case." But that careful eye on the timescale has a glint of adventure. "The goal right now is getting that first build out there, on time, in the first half of 2009." That's a tough schedule, but with the confidence of Williams in the driving seat, there's every likelihood that this will be the first of many goals that are achieved.
-- Ewan Spence and Rafe Blandford, October 2008.