You've all heard of TypePad, Movable Type, Blogger and other blogging sites that host your blogs. You might even realise that All About Symbian host Symbian Diaries for people's blogs if you ask us nicely. But one of the new types of services that camera/smartphones have allowed to explode in the last year are Moblogs, and one of the leading UK entrants in the Moblogging sites you can sign up to is MoblogUK. Alfie Dennen and Mat Brown head up the site. We caught up with Alfie to ask what moblogging is all about. But firstly, who is Alfie?
"I'm very interested in mobile, I'm a skateboarder, I'm about as old as my nose and a little older than my teeth. I head up the mobile division at www.streamuk.com in my day job."
So what's moblogging? "In the strictest sense it is blogging from a mobile device," he explains. "The term moblogging is now typically used to describe the sending of images or video from a mobile device." So why do we need a new name, surely this is just blogging, but with content other than text? "It depends on how you look at it I think." Alfie thinks for a minute… "Some people use their moblogs as their personal blog, but mostly people are sending up images from their mobiles to keep a sort of image based diary of their lives, or to share their lives with friends (and increasingly, with strangers!). A moblog differs most from a blog by being an activity that brings you closer to your mobile device, and links your use of it to the web, and a larger audience."
Of course, Alfie doesn't just talk about the theoreticals of moblogging. With MoblogUK, he's behind one of the fastest growing moblog sites in the world. Tell us a bit about the site. "MoblogUK is very community oriented. If you look at the way people are using moblogging to share images, you realise that the online community aspect to the activity is what keeps people interested and moblogging. MoblogUK is full of sharp, savvy, helpful and incredibly funny people. Once you start moblogging, you'll have friends for life in under a week, I know I did.
"MoblogUK fits into the global idea of moblogging in a slightly different way to most other moblogging sites I think. Most moblogging sites are (understandably, we all need to eat) about money, and using the members to make it. From the outset of this project, Mat and I wanted the site to be as member led, and free as possible."
"When we set up MoblogUK, Mat and I were using other moblog sites, and time after time we were coming up against mindless censorship; the craziest terms and conditions that were essentially saying that the service provider owned my usage patterns, my name, all my images and so on. As users of moblog sites, we decided to do it the way it should be done; ad-free, a totally free service, and the user gets the right to maintain ownership of their work and everything else. Plus, we're a lot more fun than anywhere else, and we give away the best prizes!
"As it stands now, the site carries no advertising and is totally donation supported. We also offer creative commons licenses for people to use for their images/videos, as most moblogging sites take complete ownership of your content once you've signed up. The one thing that really defines the site is its members; creative and dedicated to the site, it's members have made MoblogUK the number one moblog site in the UK and Europe.
MoblogUK. Not MoblogTheWorld. Can I use it from outside the UK? Alife nods enthusiastically, "Absolutely. The reason we remained being called MoblogUK was in fact due to our members; After we came out of beta testing we asked site users what they thought and they decided that they'd like to keep the name. We have users all over the world, from Brazil to Japan."
So how would our readers get started using MoblogUK? "The first step is just to visit the site and sign up for a moblog. It's entirely free, and easy to do. Once you've signed up, you can simply MMS or email pictures from your phone directly to your moblog. If you haven't yet used MMS, your network will guide you through setting it up very quickly."
What's next? "Well, that would be telling surely. There are some site developments coming up soon that will add a lot of value to the sites users, some madcap technical wizardry that Mat is developing - I'd love to tell you, but there we are. We're in a good place in the market, and we have some excellent relationships with the major handset vendors, which includes running moblogs dedicated to showing only the imaging capabilities of new handsets (http://moblog.co.uk/phonecam_test.php)."
They have also done competitions for handsets, one was a design contest for the site itself, inviting it's members to redesign the site as they'd like it, with Motorola offering up prizes (http://moblog.co.uk/thethemes.php). Another contest was in conjunction with Sony Ericsson and the art of imaging contest (www.theartofimaging.com/blog.cfm) which turned into a print exhibition at Proud Galleries.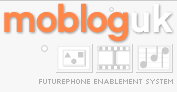 Alfie, thanks for your time. Once more, what's the URL for our readers?