Steve Litchfield: Following the recent announcements, what is happening to your S60 products?
Phil Spencer: Quickoffice have been longstanding business partners with Nokia, delivering our office products directly to the S60 platform and to users of S60 smartphones since they first began shipping. More recently, Quickoffice and Nokia have worked closely together to agree a way to provide existing and future Nokia S60 users with easy updates to the latest Quickoffice functionality.
Is Office editing still relevant as our phones get smaller and smaller?
Yes, we believe Office functionality is becoming increasingly important to S60 users on the move. The ability to reliably view and edit office documents with complete confidence, including the latest Office 2007 file formats, is a common use case. Nokia and Quickoffice want to ensure S60 offers a 'best-in-class' mobile office experience to its current and future users in order to further cement its position as a leading smartphone platform.
You're changing things at Quickoffice, I hear. How are these changes being rolled out?
We are ensuring that users of currently shipping Nokia S60 phones have an easy upgrade path to the latest Quickoffice release.
For the following devices: Nokia E51, E52, E55, E63, E66, E71, E72, E75 and E90, we've worked with Nokia to be able to provide users with the latest Quickoffice 6 viewing and editing release, free of charge. From the middle of June 2009, to coincide with the Nokia E72 launch, users of these devices have been able to get the latest Quickoffice 6 releases (including today's latest update) as free upgrades via Quickoffice's on-device delivery channel called Quickmanager™, part of the Quickoffice application.
For Nokia devices that ship with Quickoffice viewers only, the latest Quickoffice 6 viewers are now also available as a free upgrade via Quickmanager. Users of such devices can update their Quickoffice viewers for free with Office 2007 file support or, as before, optionally purchase the latest editing version as an upgrade.
How do users get these updates?
Users can get their free update immediately in Quickmanager. Quickmanager is Quickoffice's secure software delivery catalog, built into every Quickoffice product. So, all users have it on their phones already. They just need to launch Quickoffice and select 'Quickmanager' or 'Updates and upgrades' from the menu. Users will be responsible for any network/data fees (if applicable – e.g., if they do not use WiFi) they may incur in the download process, but there will be no additional charges from Quickoffice to receive these updates.
Over time, the latest Quickoffice version will also begin to appear in Nokia firmware updates for various devices, but the updates will always be available in Quickmanager too.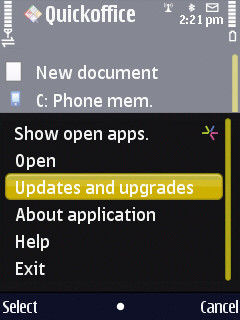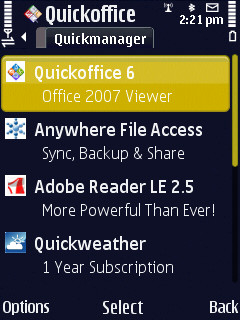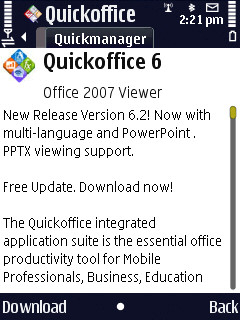 Upgrade process on the Nokia N86.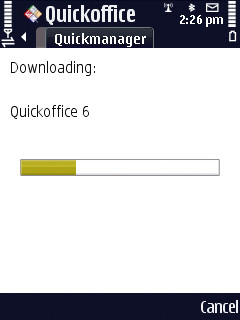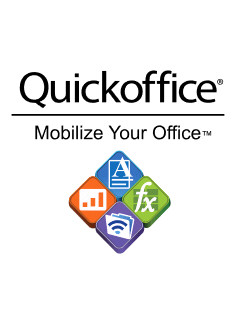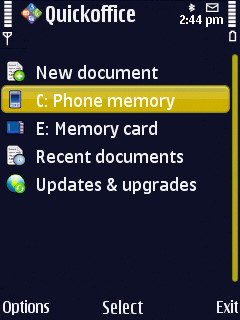 Quickoffice 6, complete with new logo and icon.

Can you recap Quickoffice 6's main benefits, for new readers?
The latest Quickoffice 6 release adds many great features over the older versions that most users will find in their S60 handset right now (typically Quickoffice versions 4.1 or 3.8). These features include more advanced document viewing and editing (where applicable) functionality, ZIP file support, password-protected file handling, Excel 2007 chart viewing, multiple usability enhancements and much more. A particular highlight is support for Microsoft Word, Excel and PowerPoint '97 through 2007 file formats.
The latest release available from today is a brand new update to the previous Quickoffice 6 product on offer – this version now adds the ability to view PowerPoint 2007 files for all users. Users of the Eseries devices listed above who already took advantage of their first free update from 15th June onwards might also like to visit Quickmanager again and download the very latest editing build again, also for free.
Another highlight of the newest update is support for editing on S60 5th Edition devices such as the Nokia N97.
Will the update be available in all languages?
Currently, to ensure we can reach as many users as quickly as possible, these first free updates are available in English, French, German, Italian and Spanish. A fully-localized update will follow in the near future (there is no fixed date, but users can check back in Quickmanager if they wish to receive this later).
What about future versions of Quickoffice?
The idea behind this new approach from Quickoffice and Nokia is that the latest viewing release will always be available as a free upgrade to Nokia phones which include our viewers, regardless of what version is in their phone's initial firmware.
Certain Nokia devices will also ship with the ability for users to always receive the latest editing versions as well (as long as the device is still shipping). Other devices will ship with the latest editors available at that time, and users will be able to purchase further editing upgrades if they wish to receive the latest versions. Exactly what Quickoffice updates users are entitled to receive on each device will be made clear in the device's product literature, and will also be carried through to the Quickmanager offers tailored for each device.
What about users of non-Nokia S60 phones?
Right now, the changes here are the result of work specifically between Nokia and Quickoffice and are aimed at Nokia's S60 phones only. We'll continue to offer Quickoffice product upgrades and support to other S60 device users exactly as we do now. For example, the latest Quickoffice 6 release (which now supports editing on S60 5th Edition devices) is also available for Samsung Omnia HD users to purchase.
Thanks, Phil!
All About Symbian, 30th July 2009