Nokia Messaging is a new application and service offered by Nokia. You can get it for free (at the moment) from http://email.nokia.com. The application currently is available in beta for all S60 3rd Edition phones and for S60 5th Edition phones via Nokia Beta Labs. With the E75, Nokia includes Nokia Messaging in the ROM as the default Email client to handle POP/IMAP protocols, and Mail For Exchange is also integrated into one user interface. It also offers push email functions. Something that has been taken seriously by Nokia nowadays.
In this walk-through, I will show you how to synchronise your IMAP folders to Nokia Messaging, where you can move, delete and manage the contents of the folders as well. For the purpose of this guide, I will use Gmail, which supports IMAP folders. To understand how it works, Gmail Labels will be mapped as folders in your Nokia Messaging. Note that this guide is not limited to Gmail only, I have configured Yahoo Mail, and also my own IMAP email server for my company with no problem. This also works for those who are using Google Apps For Domains which hosted their email with Google.
Using your desktop browser, go to Nokia Messaging and login using your email which you use to register with Nokia Messaging.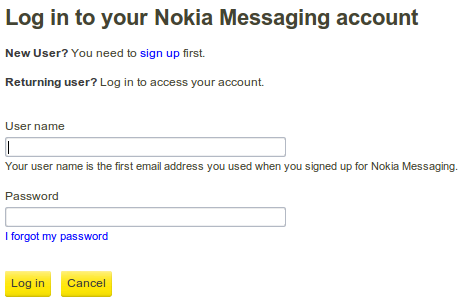 A page with a list of your email accounts will appear. On the Gmail (or any other IMAP email) account that you want to synchronise the folders, click "Edit Settings".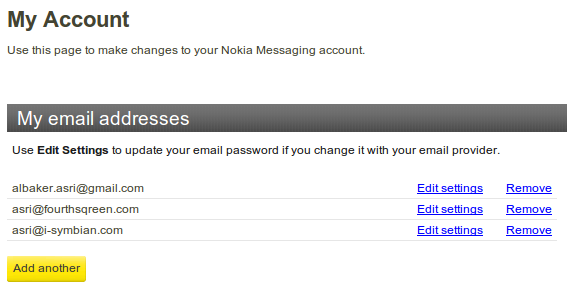 You will be redirected to a page with options to edit the server details as well as selecting folders. If you have successfully received your emails on your phone via Nokia Messaging, don't do anything to the server details.

Look at the bottom of the page, where you can see a list of folders which match your Gmail Labels. You can select a maximum of 10 folders to be synchronised with Nokia Messaging. It is also possible to unselect folders, which will remove them from the S60 client. After you are satisfied with your selection, don't forget to click on the yellow "Save changes" button at the bottom.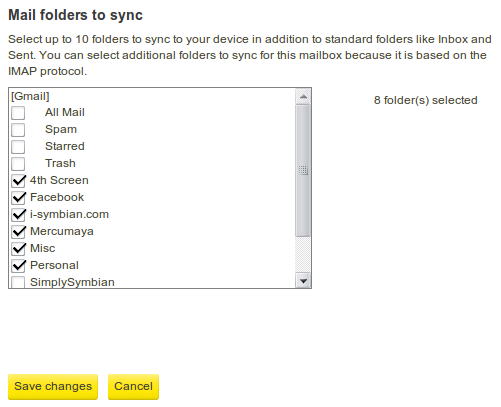 To give you an overview of how the Gmail Labels are mapped as folders, here are my Gmail Labels, taken from my Gmail main page :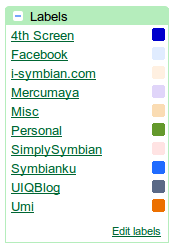 Now let's look how it is reflected in the S60 Nokia Messaging client. You can see the folder list is displayed in the mailbox selector.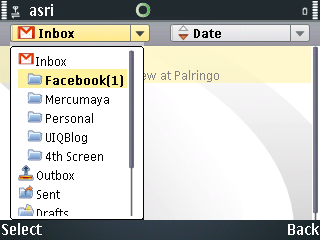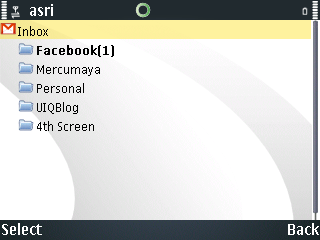 Asri al-Baker, asri@i-symbian.com, for All About Symbian, April 25th 2009
Notes:
1. To get the full advantage of Nokia Messaging, it is recommended to be on an unlimited data plan because the push function will always need server connection.
2. If you like this article, please let me know because I am writing a series of articles for Nokia Messaging "How Tos".