There are a couple of ways to get Nokia Messaging into your S60 smartphones. Which is very good because you are given a couple of choices. I will talk about getting it from the official channels only.

1. Direct download via S60 Web

The first way to get Nokia Messaging is by using the built-in S60 Web to download it directly onto your S60 smartphone and install it. It is the easiest and most convenient way. The website will automatically detect the S60 version that you use and will prompt you to download the proper version for your phone. Go to http://email.nokia.com using Web on your S60 smartphone and follow the instructions. The process is very straightforward and you are not required to enter any details.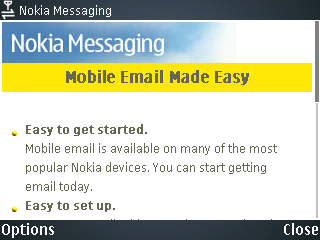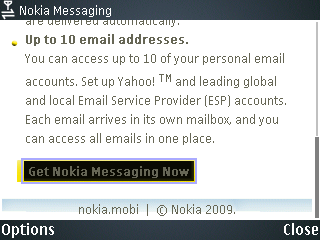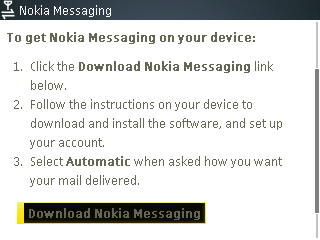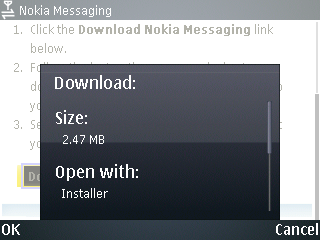 2. Using desktop browser

The second way is by using your desktop web-browser (Interner Explorer, Firefox, Opera, Safari, Chrome etc) to navigate to http://email.nokia.com and click on "Sign up!". It is not as convenient as direct download to your phone because after you successfully downloaded the SIS installer, you have to transfer it to your S60 phone via Bluetooth, Cable or Infrared and install it.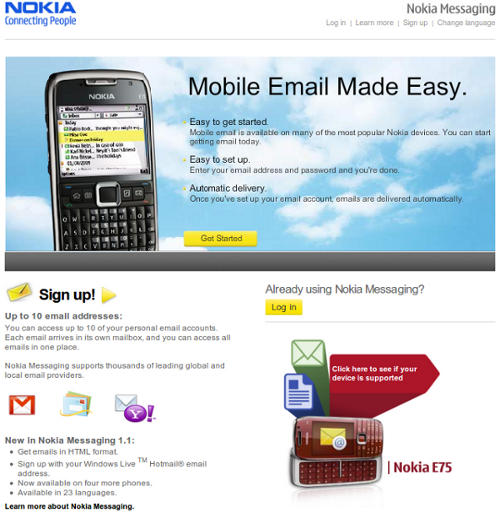 There are 3 steps, first you need to select your phone model from a variety of S60 3rd Edition, S60 3rd Edition FP1 and S60 3rd Edition FP2 smartphones to choose. Just click on one of the phones to go to the next step.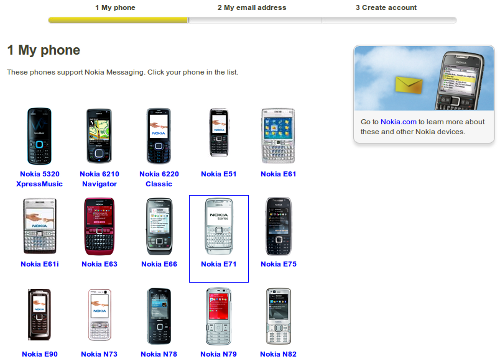 After you have chosen your phone, the second step will require you to enter an email address and the password of that email. It is important to register a premier email account for this because you will need it to manage your email subscriptions in the future.You will also need to enter the displayed CAPTCHA codes in the box to verify that you are a human, not a robot or its relatives :-). After that, click on the yellow "Next" button.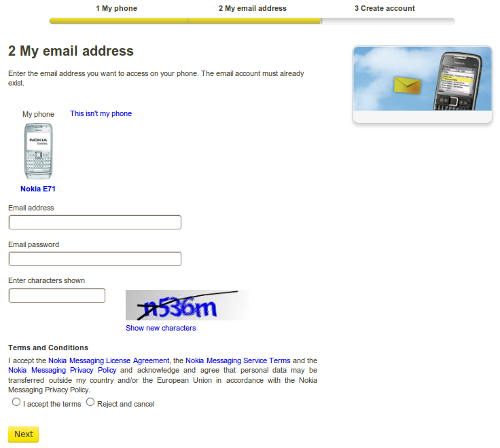 The next step requires you to enter your personal details i.e. Your name, your cell phone number, and select a security question. Once you are satisfied with all the info, click on the yellow "Create account" at the bottom.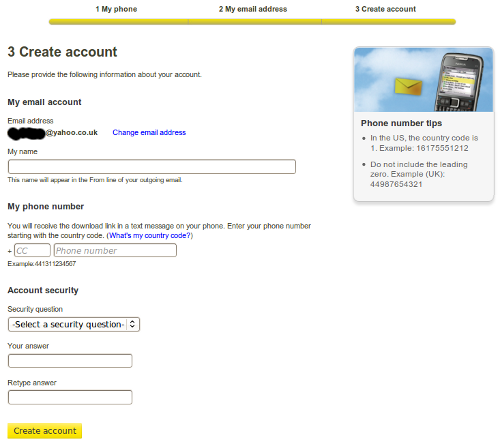 A text message (SMS) will be sent to your number. Just open it using your S60 smartphone and click on the link. It will launch S60 Web to download the SIS installer for you. Phew!

For S60 5th Edition, at the moment, you can download the SIS installation file from Nokia Beta Labs. Just go to http://betalabs.nokia.com/betas/view/nokia-messaging-s60-5th-edition and click the Green Button to download. The Nokia Messaging team is targetting May 2009 to graduate the touch version from Beta Labs. After May, it will be offered together with other versions from the Nokia Messaging official website.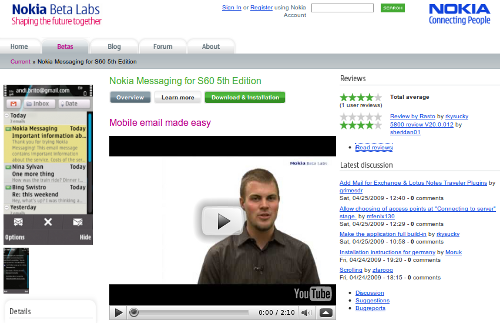 3. Get the Nokia E75

Lastly, if you want a more advanced version of Nokia Messaging, buy the newly available Nokia E75. It is the first S60 smartphone which has Nokia Messaging version 2.0 built-in, which you can use out of the box and it combines Mail For Exchange for those who are using Microsoft Exchange Server protocol. With this version, your email, contacts and calendar can also be synched to your Exchange Server. Something that is not available for other version of Nokia Messaging yet at the moment. I will provide a rundown of Nokia Messaging version 2.0 in a future article in this series. The soon to be available Nokia E52 and E55 will also have Nokia Messaging preloaded.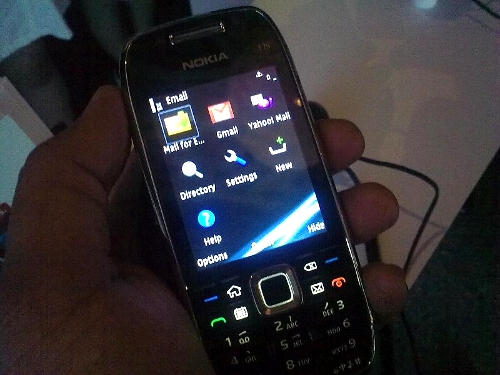 In the next part in the series, I will show you how to set up and add your email into Nokia Messaging.
- Follow Nokia Messaging on Twitter
Asri al-Baker, for All About Symbian, May 13th 2009