N91 owners and prospective purchases may have come across a new Nokia funded marketing project focussed around Nokia's premier music phone – the N91. The All about N91 blog (an oddly familiar name…) has posts from a wide selection of topics often linking to online reviews, highlighting advertising material and pointing readers towards discussions in forums and answering users concerns and questions.
Today traditional media increasingly faces competition for people's time and attention from the web. Nowhere is this more obvious than the rise of social media.
Social media is becoming a powerful medium with many savvy shoppers looking to the web for opinions about potential purchases. For example, according to a recent report, as many as 77% of UK consumers consult blogs before major retail purchases. As younger audiences turn off traditional media, companies are increasingly looking towards the web not only to provide a new communication channel but as a way to interact with their customers and market their products in innovative ways.
However, with any commercial blog (clog!) there's a concern that the traditional corporate PR message can override the more fluid and open style of individual blogs. The Internet is fast moving and negative publicity can build just as fast as the positive, as other companies have learnt.
We spoke to Colin Mercer to get the inside story on the aims and thinking behind the All about N91 blog. Although the blog is run by 1000heads.com, Nokia is the driving force behind it, seeing it as an important way to connect with the product community.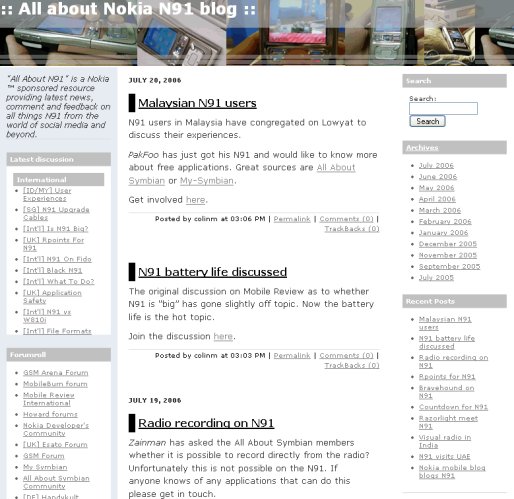 Colin told us that the aim of the project is to 'help users find social media', be it informational posts, user videos or posts in discussions forums about the N91 and to help them 'enter the debate and join in the online discussions in an informed and interested manner'. Colin pointed out that as such it differs from most opinion based blogs because it is acts more as a communication hub to connect its readers with other peoples' views on the N91.
Colin says that Nokia are aware of the mixed reception to clogs and are sensitive to the dangers of being a purely marketing focussed blog. He pointed out that for Nokia it is not about projecting a corporate marketing message or pretending problems with the device are not there, but rather it is about 'a desire to join the conversation'. Colin notes that Nokia do not vet postings and the team have an open brief that looks to 'raise the profile of N91 communication and information, communities and their users'. Indeed a close examination of the more than 2000 discussions posted to the blog shows that many of the posts on the blog respond to and highlight problems users are having with the device. Generally there is also an attempt to provide a solution, but nevertheless both positive and negative discussions are covered. The blog also highlights information that may be of interest to users such as reviews from leading technology web sites, information about advertising campaigns (the blog was the host for the Internet premiere of the N91 television ad), and links to third party software for the N91.
The blog posts content in two ways: Firstly in the traditional blog format – blog posts linking to a piece of social media usually with an accompanying commentary or opinion and secondly (in the side column) as a continually changing set of links to recent topics in a variety of mobile phone discussion forums.
We've been following the blog for the last few months and its content and overall voice accurately reflects the general feeling among users about the N91 – an impressive device, with excellent audio output, somewhat let down by a number of issues such as form factor and cost.
There are, of course, advantages to being a Nokia funded project. The blog's authors are in contact with various Nokia tech teams both to get answers to questions that they can't answer themselves, but also to feedback user concerns and opinions. Close relations with Nokia also enabled early access to the device itself. The team were able to familiarise themselves with the phone at various stages in its development cycle and were subsequently able to send out a limited number of phones for short periods to trialists.
Trialists were chosen from among the many forums that the team were monitoring on the basis of their activity and potential interest. Trialists weren't given a particular brief, nor were they obligated to post about the device, instead the project team were looking for feedback and opinions about the phone. Naturally many of the trialists did post about the N91 in various online communities which helped generate early interest.
While it is difficult to judge the impact of such a project we asked Colin whether he thought the project had been a success thus far and whether there had been any particular challenges. Colin explained that he felt that the positive feedback from users and high number of incoming links (the site has a Google page rank of 5) were all positive indicators. As for challenges, these generally came via association rather than any direct issues. For example there were times when discussions that had been linked to later descended into insults.
As for the future – can we expect more of the same, perhaps based around some of the newer Nseries products such as the N93? Yes, is the unequivocal answer – 'bigger and better' says Colin who adds that 'helping tap consumers into word of mouth should be an ongoing concern. The site drives discovery and connects experiences – not just by trialists but across the whole spectrum of users and prospects.'
The All about N91 blog is undoubtedly an interesting experiment and Nokia deserve plaudits for funding a project that sits on the cutting edge of product communication and marketing. Clearly there is an underlying aim to sell the N91, but by creating a discussion nexus there is clearly a creation of value beyond the pure marketing angle. It is a refreshing approach and one which should win Nokia both new customers and cement existing ones.
While it is difficult to judge the return on interest from such activity, the importance of connecting a user community should not be underestimated. At All About Symbian we are probably a bit biased, but we regard the online community as a vital part of the product community and it is very encouraging to see Nokia taking the first steps in engaging with it, albeit in a slightly hands off manner. Hopefully there will be much more to come.