It's something of an annual pilgramage for me. It's also the main mobile-related show that's held in the UK (specifically Earls Court, London). And everything, repeat everything is completely FREE. Wonder if the three are related? 8-)
Your 48 hours in London on 26/27/28th October, if you can make the journey too, are best broken down like this:
The All About Symbian meet, 6pm onwards, at a secret venue (to be announced in due course! - last year we had a pub section and a S60-arranged event at the Nokia flagship store in Regent Street). Come and say hello, buy Rafe, Ewan and I the hundreds of pints of beer that you no doubt feel you owe us, enjoy the chat with dozens of other smartphone enthusiasts, win a prize or three and generally have a relaxed evening.



Day 1 at SEE 2009, at Earls Court 2. See below for more on this. You'll be able to mingle with several thousand other geeks, early adopters, stand reps, developers, journalists, and more. There are almost 100 different stands and exhibits/demos, all of which are manned with people keen to talk. There are keynote talks and seminars. There will be the very latest smartphones to fondle and play with, from the likes of Nokia, Samsung, LG and Sony Ericsson, plus prototypes of device launched during the morning. And yes, there are the freebies, from flash memory sticks to non-slip mats to t-shirts to pens to robots (if you're lucky).



6pm until late, still at Earls Court 2. The Symbian party. It's a bit like the main day, except that there's masses of free beer, the lights are dimmed and the music's a lot louder. In short, an excuse to let your hair down and relax, to make some new friends and to generally party at Symbian's expense.



Day 2 at SEE 2009. Again, see below for the specifics. The second day tends to have less announcements and to be a little quieter, but if you're after playing with hardware and trying to catch quality time with the people manning the different stands then quieter is better.


Phew! It can be a whirlwind couple of days - I'll be there for much of it, Rafe and Ewan will be there for all of it, but do drop any of us an email if you'd like to meet and say hello. We will, of course, have a million other things to do, so don't be offended if we break away after 10 minutes or invite you to tag along with the next thing we're attending!
So, what's being shown off at SEE 2009 and why should you bother to come?
The stands and demos
As with any other year, the principal draw is the range of stands and demos, with everything from the very latest hardware (often a device is announced on the Tuesday morning and then immediately shown off), with plenty of opportunity for hands on time, to the most obscure enterprise software solutions, and everything in between. Exhibitors in 2009 include ARM, CoPilot, Opera and Texas Instruments, in addition to the main smartphone manufacturers. There's a full list here. Interestingly, there's no single Nokia stand - but you'll find Nokia on a number of other stands, helping out and showing hardware.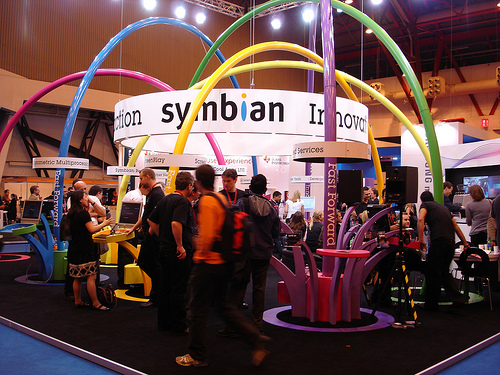 The keynote talks
Off at the very back of the arena is the 'Main stage', with darkened auditorium, stage lighting, a huge screen and a decent PA. Speakers on the morning of 27 October include Lee Williams (Symbian Executive Director, of course) and Jimmy Wales, of Wikipedia founding fame. The tentative theme for the morning is 'The Future of Mobile'. On the Wednesday 28th October, the speaker is Geoffrey Moore (a best-selling author and venture capitalist), with a theme of 'Opportunities are Open: Now is the time'.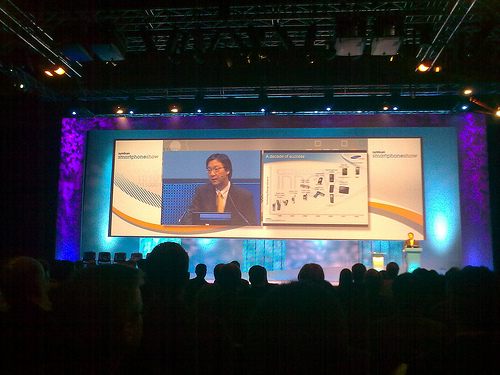 Also on the main stage after the keynotes each morning, for a couple of hours, are panel discussions (see here for full details), if you're in the mood for hearing a lively debate.
The seminars
On the main stage and in two separate theatres in the arena, extra discussion and seminars take place all afternoon on both days, with a full programme, listed under the three main themes: Application Development, Device Creation & Contributing to Symbian and Open Source Business Models. Each is typically half an hour and there are around seven or eight seminars per 'venue' each afternoon. It's a little overwhelming, to be honest, but if you're interested in a particular aspect of application development or in a particular theme then no doubt you can cherry pick the things you really, really want to attend.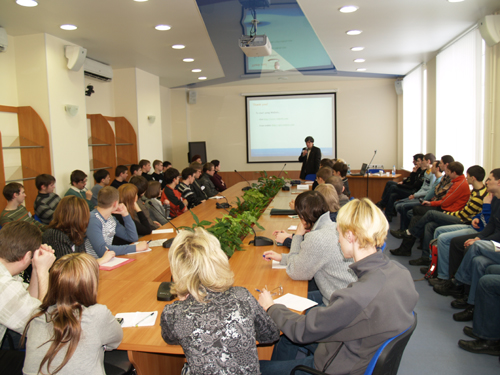 How to get into SEE 2009
You can almost certainly just turn up and get in on the day ad-hoc, but you'll have to queue for longer and hang around while details are taken. Far better is to pre-register (again, it's all free, noone wants your money!) here, online, and then just turn up, show your (PDF-printed) badge and collect your bag of goodies, maps, leaflets and other information, then walk on in, with no waiting.
How to get to SEE 2009
The only sensible ways to get to Earls Court are by public transport. The full address is: Earls Court 2, Warwick Road, London SW5 9TA and there's a venue web site at www.eco.co.uk
By Tube (the way the AAS and most attendees will arrive):
Earls Court 2 is located within Zones 1 and 2 on London Underground with access from the Piccadilly (including a direct link to Heathrow) and District lines to Earls Court (Piccadilly and District Zone 1) and West Brompton Tube stations (District Zone 2).

By Train:
Earls Court 2 also has a direct over-ground train link, running from Clapham Junction, Brighton, Watford, Gatwick and Croydon rirect in to West Brompton overground.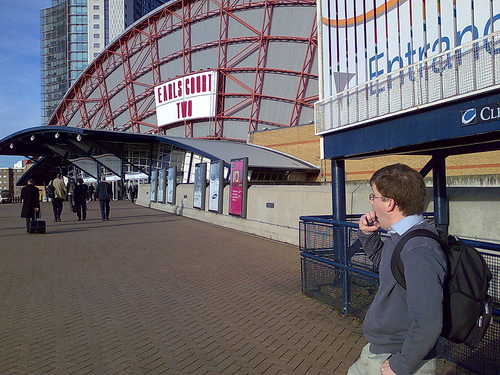 _________
For all other detailed information on SEE 2009, please see www.see2009.org .
Steve Litchfield, All About Symbian, 22 September 2009