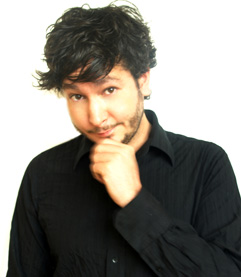 "So Alfie", I asked over IM, "can the readers of All About Symbian nose around your mobile phone's desktop to see what makes it tick?"
"Sure," came the reply, "but I'm boring. I've only got the web browser there."
As one of the founders of Moblog, one of a small number of British success stories in the Web 2.0 world, Dennen is far from boring. Part of me thought there was some weird plug-in he was using that took away all bar one of the quick launch icons. Turns out that wasn't true, there's still the requisite icons on display. So what did that single icon line mean?
"That's more my thinking about my phone," Dennen explains. As he uses it primarily for communication (and creating content) it's very rare for him to use any one application often enough to justify adding it to the desktop. "Aside from some very specific ones, I don't want to clutter my screen. Applications like Sports tracker, iNigma, Google Maps, etc. are all there but I don't use them often enough to make a short-cut worthwhile.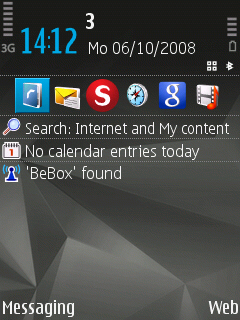 With a lot of his work fully online, it's no surprise his initial thought is one of only needing a web browser to make his phone fully functional. Then there's the fact that the browser isn't the regular browser (which is still there on the right hand soft-key) but Skyfire, a proxy based browser from the US that's recently entered beta testing. "I'm just testing it out, ordinarily that would just be Opera."
Why this almost fanatical focus on the browser? "All the sites I use have good mobile versions, and being on 3's X Series data package, alongside Wifi at home and my office, I can't remember the last time I worried about data usage." Hence Google Search being available. There is a cheeky smile in Dennen's eye here, so I decide to call him on the mobile web usage.
Is there a site that typifies a good mobile optimised site? "Slandr (m.slandr.net). I use that for Twitter and it's a really smart mobile site that provides everything I want to use Twitter for." Slandr is an alternate way of viewing the microblogging service Twitter, and it's designed for the smaller screen of browsers. I'm also in agreement here, it's a really good implementation (and far better than Twitter's mobile view, strangely enough).
"I think the mobile version of Moblog (m.moblog.net) is pretty good, and we made sure that people can post to their moblogs and groups via the browser, which is important for blogging on the move."
There are some built in apps on display here as well, namely Contacts and New Message, which tallies in with the view of content creation and, rather than one of the mapping applications, Dennen has the more clinical 'raw' GPS application on the quick launch.
"I like to record the location of images I've taken via the GPS location being pushed into the EXIF image data," he explains, "but I don't want GPS always on as it sucks battery power. I only need it when creating the content, so I set the camera to record location, and if the GPS is on, it does it. So it's a quick way to launch GPS (I start the utility before starting to take any photos) without too much kerfuffle over multiple key presses." [Steve Litchfield notes that keeping geotagging on under S60 doesn't actually keep the GPS on all the time, it just kicks it off when you start the camera and keeps it on long enough to retro-tag any photos taken without a fix - but Alfie's method does have the advantage that he gets an instant, confident geotagged fix, rather than having to wait 10 to 30 seconds while a GPS fix is obtained from scratch etc.]
Gallery is the final shortcut. "I often batch upload photos some time after taking pictures, mainly because I can't use MMS to send them immediately, because on every single handset in existence an MMS strips out the EXIF data. So by sending via email, from the Gallery, that data is preserved.
Given his job, it's only natural to expect the camera features of the smartphone to be present in Dennen's thinking, but it's the ancillary tools (Gallery and GPS primarily) that make the difference to his phone. The connectedness returns again, with not one but two web browsers present. The always connected computer in his life is the smartphone in his pocket, and it's set up to fit nicely with this creative streak.
Thanks, Alfie.
-- Ewan Spence, Oct 2008