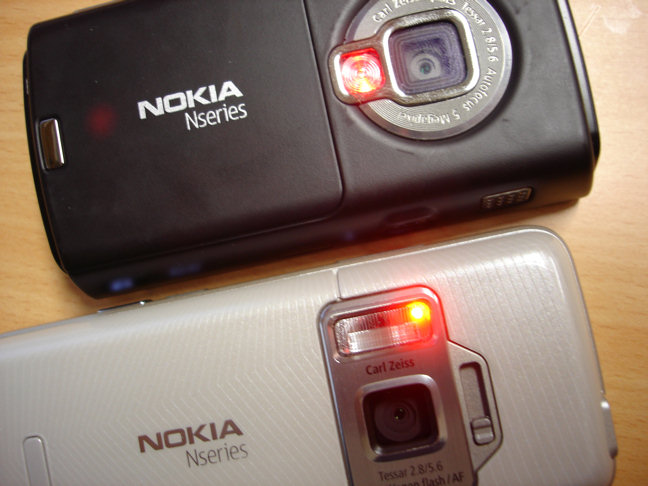 So far in this series, I've been concerned primarily with still photo capture, but all of these phone cameras have another party trick, of course - capturing video. I don't claim that the phones in the example clip and ratings below are a definitive hardware set in any way - they simply represent the hardware I had to hand. What I want to do is demonstrate the huge, and I mean huge gulf between good and bad video recording.
It has to be said that Nokia's Nseries phones have led the way in the mobile world in terms of video capture. The unique N93, with its stereo microphones, was the first to capture video at VGA resolution at up to 30 frames per second, and the N95 carried on the VGA flag with much more conventional form factor. The N82 then came along, packaging the N95's camera into a robust candybar form factor, a long way from the twisting, bending N93. Newer phones like the N85 and N96 have yet to prove their video recording mettle, I suspect firmware improvements are needed for each.
Also in the test below are the Nokia E90, a experiment to put a VGA-capturing camera in a business device, plus the new Samsung INNOV8, unique for an initial focus in video mode, the screen-tilting HTC Kaiser and the candybar Sony Ericsson K850i, with the latter two included more for general comparison really.
Here's my compiled test clip, with samples taken in identical lighting conditions. YouTube or similar would mess up the quality and introduce its own artefacts, so I encourage you to download the MP4 file and view it on your PC or Mac.
Sorry for me squinting - we're talking (rare) winter sun and it was low in the sky - but sunlight is the best way to try and bring out true colours, and to stress test phone cameras in terms of handling of contrast.
In detail, let's look at the quality from each. All scores are out of 10. Maximum mark is thus 20.
Nokia N82 (representative of N95 as well)


Picture: Despite the lack of video focus (note the leaves in the background are sharper), still a good picture. Not over-exposed in the direct sun. Loses two marks for the colours being washed out. 8/10. Sound: Good, but let down by being mono in nature - all extraneous noise is channelled, with the source you want, through the same mike - which isn't facing towards your subject. There's good gain control, balanced about right to cope with situations like this AND loud pubs/concerts. 8/10.
Nokia N93


Picture: The start of the depth of field seems further back than on the N95 and N82, with the result being that my face is slightly more blurry. There's also overexposure of bright areas in the sun, but on the other hand the colours have come out true to life. 7/10. Sound: Top quality sound from the two forward-facing stereo microphones. The separation isn't that great, but the fact that there are two mikes does seem to help separate source from background noise. And the fact that the mikes are forward facing means that you'll get more of your source captured in the first place. About as good as phone-recorded audio gets. 10/10
Nokia E90


Picture: Good colours, good video picture quality without being quite as crisp as that from the N82. Slight overexposures in the sun, too. 6/10. Sound: Similar to that on the N82, with perhaps a little more hiss. Again you're hit by the microphone being mono and not really pointing in the right direction. 7/10.
Samsung INNOV8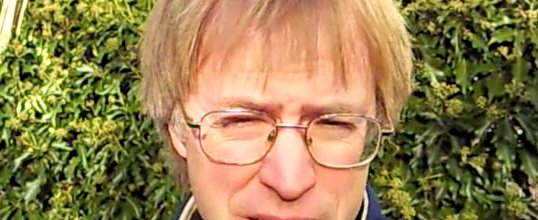 Picture: By far the most lifelike and crisp video quality from the devices on test here. The initial focus in video mode makes all the difference and the colours and handling of sunlight are super, too. 10/10. Sound: A dedicated camera microphone pointed in the same direction as the lens helps keep your subject's voice nice and distinct, although there was a degree of muffling, strangely, plus a horrible audio/video lipsync bug - hopefully Samsung will fix this soon. Score as-is, though, 5/10. If the lip sync bug gets fixed, this would rise to perhaps 9/10.
Sony Ericsson K850i


Picture: As good video as many 'feature' phones get. This footage looks crisp on the K850i's screen but suffers when you examine it in detail on the desktop and sample it up to VGA. 3/10. Sound: Surprisingly good, with a good frequency range. Let down a little by having to use the main phone mike and so there wasn't enough sound focus on the source. 7/10.
HTC Kaiser / Tilt / TyTN II


Picture: Overall effect is similar to that of the footage from the K850i - shooting at QVGA resolution or even 352 by 288 pixels just doesn't cut it anymore - the VGA-capturing N93 was available two and a half years ago, for goodness sake! 3/10. Sound: Very tinny and noisy. Par for the course for an average feature phone or smartphone that doesn't run S60, it seems. 2/10.
Totals


Adding it all up, as-is, we have:
Nokia N93: 17/20

Nokia N82/N95: 16/20

Samsung INNOV8/i8510: 15/20

Nokia E90: 13/20

Sony Ericsson K850i: 10/20

HTC Kaiser/TyTN II: 5/20
Rather tellingly though, if Samsung manage to sort out the lip-sync audio problems in the INNOV8/i8510 then the device is going to walk it as not only the best imaging smartphone but also the best for video too. With the sync problem solved, the INNOV8 would score a whopping 19/20.
Note that even though I've panned the video capture of the Kaiser and K850i, these are actually better than the industry average for phone video. Amazing. And all of which puts the results from the N82/N95 and N93 (and potentially the INNOV8) into further positive relief.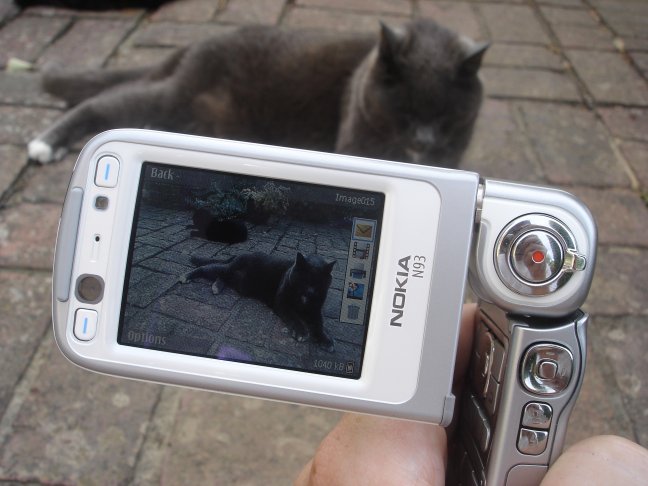 What does the future hold for video capture on phones? I'm sure HD video is going to be possible one day on a phone but I think we're a year or two away from that. As we can see above, there's room for improvement even at VGA resolution - increasing the resolution dramatically will also place extra demands on electronics, battery and storage - all problems to be solved in time.
Comments welcome if you can add comparisons or testimony of your own.
Steve Litchfield, 13 Nov 2008
PS. Don't forget that some of these devices also have TV out and you can quickly see the results of your captures at full resolution via any domestic TV set.