mIRGGI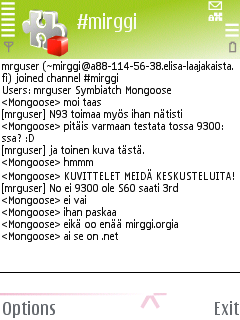 Free
mIRGGI is the first IRC client for S60 3rd Edition devices.
| | |
| --- | --- |
| Last Update: | March 22nd 2007 |
| Author: | Symbiatch |
| Version: | 0.3 |
| User Rating: | 0.00 |
| Downloads: | 0 |
| License: | |
| Requirements: | |
| Support: | http://mirggi.net/ |
| ID's: | HID: 0, AAID: 18018 |
Author's Description
The current version is 0.03 beta. It contains the following functionality:
0.03 
UTF-8 encoding support
Windows 1251 encoding and decoding support (hi to all my friends in Russia!)
customizable quit message
/clear
/part and /leave can be used with * to denote current channel
nick changes are shown in windows where the user is
quit messages shown in windows where the user is
query windows change target nick automatically if you're on a channel with the user that changes their nick
password for the IRC server can be set
0.02

connecting to one server
joining channels
query windows for private chatting
10k per channel/query backlog
jumping to desired window with numpad
ident daemon
UTF-8 decoding
T9 can be used
usually needed commands implemented
the font is small and nice (at least on tested devices)
the memory requirements should be very small
settings for autojoin and autoquery on connection
will not be bloated with unneeded themes, skins, scripts, now playing -crap etc
We recommend you visit the
author's web page
for more information and instructions.
Compatible Devices
Nokia 3250, Nokia 5500, Nokia E50, Nokia E60, Nokia E61, Nokia E70, Nokia N71, Nokia N73, Nokia N80, Nokia N91, Nokia N92, Nokia N93, Nokia N95
Categories for this Software
Submitting Software and Information
We are updating our submission process.
You can still get your software added by contacting us manually.