Vox Mobile (S60 3rd Edition)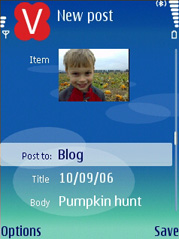 Free
Post to your Vox blog from your phone.

| | |
| --- | --- |
| Last Update: | January 22nd 2007 |
| Author: | Six Apart |
| Version: | |
| User Rating: | 0.00 |
| Downloads: | 0 |
| License: | |
| Requirements: | |
| Support: | http://help.vox.com/cgi-bin/blogs_us.cfg/php/enduser/std_adp.php?p_faqid=570 |
| ID's: | HID: 0, AAID: 17448 |
Author's Description
Vox Mobile is a free application for your Windows Mobile, Series 60 (Nokia), or Palm OS smartphone that allows you to post photos and videos to your Vox blog while on the go.
Automatically add new photos and videos to Vox when you capture them.
Categorize your content with an easy to use tag picker – or have posts automatically tagged when you create them, instead of entering them each time.
Set the privacy level of your posts to Private, Friends, Family, Friends & Family, or Public.
Send your photos and videos to Vox as a blog entry, or straight into your Vox library.
And much more!
More information is available
here
.
Compatible Devices
Nokia 3250, Nokia 5500, Nokia E50, Nokia E60, Nokia E61, Nokia E70, Nokia N71, Nokia N73, Nokia N80, Nokia N91, Nokia N92, Nokia N93
Categories for this Software
Submitting Software and Information
We are updating our submission process.
You can still get your software added by contacting us manually.