SysExplorer for S60 3rd Edition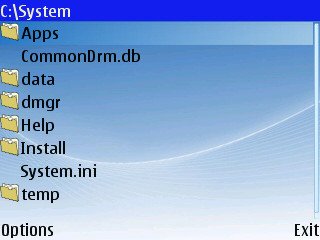 Free
SysExplorer is a file manager aimed at developers and power users.
| | |
| --- | --- |
| Last Update: | July 20th 2006 |
| Author: | NewLC |
| Version: | 0.2 |
| User Rating: | 0.00 |
| Downloads: | 0 |
| License: | |
| Requirements: | |
| Support: | http://sysexplorer.newlc.com/project |
| ID's: | HID: 0, AAID: 15436 |
Author's Description
SysExplorer is yet another file and system explorer for the Symbian OS platform. Developing this may look weird as some other excellent - sometimes free - alternatives already exist on the market. However, none of those alternatives meet all of our requirements so we decided to go with our own solution.
SysExplorer has the following main advantages:
multiplatform: it runs on S60 v2 and v3, UIQ v2 and v3, and Series 80. S60 v1 and S90 versions are not scheduled so far but could be generated if there is a demand for them.
easy to use: use the keyboard and alphabetical shortcuts to quickly navigate through the files
extensible: due to its architecture, it SysExplorer has been designed to be expandable. Do you need your own specific feature, we can add it for you !
free: SysExplorer is distributed as freeware.
Compatible Devices
Nokia 3250, Nokia 5500, Nokia E50, Nokia E60, Nokia E61, Nokia E70, Nokia N71, Nokia N73, Nokia N80, Nokia N91, Nokia N92, Nokia N93
Categories for this Software
Submitting Software and Information
We are updating our submission process.
You can still get your software added by contacting us manually.