S-Tris 2 (QVGA Screen)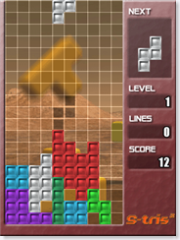 Free
Tetris Clone

| | |
| --- | --- |
| Last Update: | January 22nd 2007 |
| Author: | Elements Interactive BV |
| Version: | 1.30 |
| User Rating: | 0.00 |
| Downloads: | 0 |
| License: | |
| Requirements: | |
| Support: | http://www.elementsgames.com/stris2/index.php |
| ID's: | HID: 0, AAID: 17454 |
Author's Description
S-Tris 2 is based on the famous Tetris concept and is the follow-up of our popular S-Tris game. This game comes as a demonstration of our in-house developed game engine Edge and is completely free.
Features
Addictive gameplay
Normal and maniac gameplay modes
Difficulty increases while playing
Customizable controls
Shadow shows where blocks will fall
On-line highscore submitting
Minimize function
Compatible Devices
Nokia E50, Nokia E60, Nokia N71, Nokia N73, Nokia N75, Nokia N91, Nokia N92, Nokia N93, Nokia N95
Categories for this Software
Submitting Software and Information
We are updating our submission process.
You can still get your software added by contacting us manually.