Opera Mini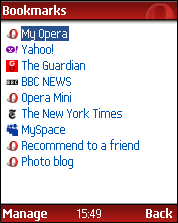 Free
Opera Mini is a proxy web browser for your phone.

| | |
| --- | --- |
| Last Update: | January 22nd 2007 |
| Author: | Opera Software ASA |
| Version: | |
| User Rating: | 0.00 |
| Downloads: | 0 |
| License: | |
| Requirements: | |
| Support: | http://www.operamini.com/ |
| ID's: | HID: 0, AAID: 17461 |
Author's Description
Opera Mini™ simply offers user-friendly access to all Web pages to nearly all mobile phones. It has all the features expected of a browser, and more, such as content download, bookmarks, skins, multi-search and smooth scrolling. In addition, Opera Mini recognizes your phone's capabilities and optimizes Web pages accordingly for fast and easy browsing.
Take a detailed feature tour.
New with version 3.
Subscribe to your favorite RSS news feeds and every time you connect with Opera Mini all updates are just one click away. Sort the articles by feed source or by date.
Share a picture from anywhere, anytime with your phone using Opera Mini's photo sharing feature. Upload your photo to a blog or forum, or as an e-mail attachment. Photo sharing just got easier.
The content folding feature shrinks lengthy menus to save your scrolling thumb. You can easily inspect the block of hidden content by hitting the [+] button next to it.
Do even more online with Opera Mini. Secure connections will now let you safely use secured sites, such as your e-mail, bank site, online stores, with no exposure of your personal details.
All subsequent requests to a server within a session are now quicker. Opera Mini keeps an open connection between server and client reducing overhead TCP set-up times.

Compatible Devices
BenQ P30, BenQ P31, Motorola A1000, Motorola A920, Motorola A925, Nokia 3230, Nokia 3250, Nokia 3600, Nokia 3620, Nokia 3650, Nokia 3660, Nokia 5500, Nokia 6260, Nokia 6600, Nokia 6670, Nokia 6680, Nokia 6681, Nokia 6708, Nokia 7610, Nokia 7650, Nokia 7710, Nokia 9200 Series Communicator, Nokia 9210 Communicator, Nokia 9290 Communicator, Nokia 9300, Nokia 9500, Nokia E50, Nokia E60, Nokia E61, Nokia E62, Nokia E70, Nokia N-Gage, Nokia N-Gage QD, Nokia N70, Nokia N71, Nokia N72, Nokia N73, Nokia N75, Nokia N80, Nokia N90, Nokia N91, Nokia N92, Nokia N93, Nokia N95, Panasonic X700, Panasonic X800, SendoX, Siemens SX1, Sony Ericsson M600i, Sony Ericsson P800, Sony Ericsson P900, Sony Ericsson P910, Sony Ericsson P990, Sony Ericsson W950i
Categories for this Software
Submitting Software and Information
We are updating our submission process.
You can still get your software added by contacting us manually.