NiceAlarm v.1.7
NiceAlarm S60 for Symbian OS v.9.x - outstanding alarm manager for S60 smartphones
| | |
| --- | --- |
| Last Update: | December 8th 2009 |
| Author: | VerySoft |
| Version: | |
| User Rating: | 0.00 |
| Downloads: | 0 |
| License: | Provided with purchase |
| Requirements: | Symbian v9 S60,500kb ROM, 100kb RAM |
| Support: | support@very-soft.com |
| ID's: | HID: 264065, AAID: 26341 |
Author's Description
NiceAlarm v.1.7
- superior Symbian alarm manager.
Dear Customers,
We are proud to present you updated 1.7 version of the most advanced alarm application for Symbian smartphones. NiceAlarm combines unique customization options, high level of reliability and user friendly interface. You can try it out now for free!
Check official web-site for additional localization and discounts.
Short list of features
Six alarm types;
Alarms filtering;
Vibration option;
Sound folders selection;
Standard/Stand-by alarms;
Alarm text messages support;
Extended customization options;
Alarm optional deactivation code support;
Minimal server part among similar applications;
Extended sound support (tone selection/random tone).
Full information about NiceAlarm v.1.7 features is available in the User's Manual. Application's FAQ and extra info can be found on the official web-site.
Installation
Transfer downloaded file to your smartphone and run it.
Complete installation dialog.
Start NiceAlarm.
Compatibility. System Requirements
Please, always try application before buy!
Application requires up to 500kb of ROM to install and up to 100 kb of RAM to operate.
Support (only in English language)
Web-site: http://very-soft.com
Forum: http://very-soft.com/forum
E-mail: support[at]very-soft.com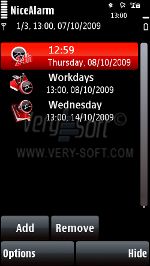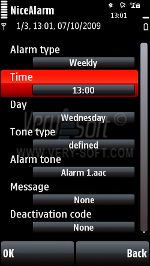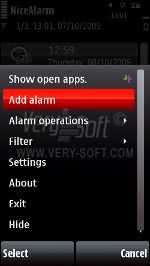 Compatible Devices
LG KS10, LG KT610, Nokia 3250, Nokia 5320 Xpress Music, Nokia 5500, Nokia 5700, Nokia 5800 Xpress Music, Nokia 6110, Nokia 6120, Nokia 6290, Nokia 6650, Nokia E50, Nokia E60, Nokia E61, Nokia E61i, Nokia E62, Nokia E63, Nokia E65, Nokia E70, Nokia E71, Nokia E90, Nokia N71, Nokia N73, Nokia N75, Nokia N76, Nokia N77, Nokia N80, Nokia N91, Nokia N92, Nokia N93, Nokia N93i, Nokia N95, Nokia N97, Samsung G810, Samsung i7110, Samsung i8510 INNOV8, Samsung L870, Samsung SGH-i450, Samsung SGH-i520, Samsung SGH-i550, Samsung SGH-i560, Samsung SGH-i570
Categories for this Software
Submitting Software and Information
We are updating our submission process.
You can still get your software added by contacting us manually.