NiceAlarm v.1.5
NiceAlarm S60 for Symbian OS v.9.x - outstanding alarm manager for S60 smartphones
| | |
| --- | --- |
| Last Update: | July 10th 2008 |
| Author: | VerySoft |
| Version: | |
| User Rating: | 5.00 |
| Downloads: | 11053 |
| License: | Provided with purchase |
| Requirements: | Symbian v9 S60, 250kb ROM, 150kb RAM |
| Support: | support@very-soft.com |
| ID's: | HID: 204779, AAID: 18002 |
Author's Description
NiceAlarm v.1.6 S60
- oustanding alarm manager application for Symbian smartphones.
Dear Customers,
We are ready to present you the new version of NiceAlarm application. It was updated according to your requests and suggestions posted on our forum. Thank you for your Support and enjoy this release.

All existent customers can register NiceAlarm v.1.6 for free using previously received registration code.
Check official web-site for additional localization and discounts.
Short list of features
6 alarm types;
Alarms filtering;
Alarm deactivation code;
Sound folders selection;
Stand-by/standard alarms;
Vibration option (see user guide for details);
Extended sound support (tone selection/random tone);
Information about full list of the NiceAlarm v.1.6 features is available in the User's Manual.
Program's FAQ, extra info and additional localizations can be found on the official web-site.
Installation
Transfer downloaded file to your smartphone and run it.
Complete installation dialog.
Start NiceAlarm.
Compatibility. System Requirements
Please, always try application before buy!
NiceAlarm v.1.6 (Symbian v.9.x S60) is compatible with next smartphone models:
Symbian OS v.9.x S60
Nokia 3250
Nokia 5500
Nokia N71
Nokia N73
Nokia N75
Nokia N80
Nokia N91
Nokia N92
Nokia N93
Nokia N93i
Nokia E50
Nokia E60
Nokia E61
Nokia E61i
Nokia E62
Nokia E65
Nokia E70
Nokia N77
Samsung i400
Nokia 6110
Nokia 6290
Nokia N76

Nokia N95
LG KS10
Nokia 5700
Nokia 6120
Nokia 6121
Nokia 6124
Nokia N81
Nokia N81 8gb
Nokia N95 8gb
Nokia N82
Nokia E51
Nokia E90
LG KT610
Samsung G810
Samsung i450
Samsung i520
Samsung i550
Samsung i560
Nokia 6210
Nokia 6220
Nokia N78
Nokia N96

Support (only in English language)
Web-site: http://very-soft.com
Forum: http://very-soft.com/forum
E-mail: support[at]very-soft.com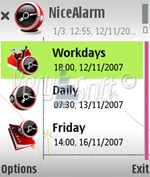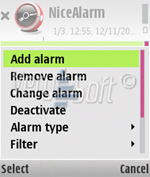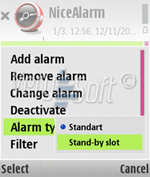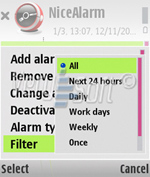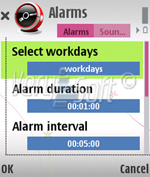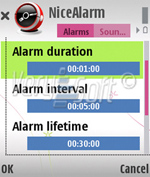 Compatible Devices
LG KS10, Nokia 3250, Nokia 5500, Nokia 5700, Nokia 6110, Nokia 6120, Nokia 6290, Nokia E50, Nokia E60, Nokia E61, Nokia E61i, Nokia E62, Nokia E65, Nokia E70, Nokia E90, Nokia N71, Nokia N73, Nokia N75, Nokia N76, Nokia N77, Nokia N80, Nokia N91, Nokia N92, Nokia N93, Nokia N93i, Nokia N95, Samsung G810, Samsung SGH-i450, Samsung SGH-i520, Samsung SGH-i550, Samsung SGH-i560, Samsung SGH-i570
Categories for this Software
Submitting Software and Information
We are updating our submission process.
You can still get your software added by contacting us manually.