My Periodic Table for Symbian
$7.99
Buy / No Trial
Dynamic Periodic Table with 20 useful Chemical Information about each element. Attractive User-Interface with Pleasant Presentation. 3 splendid search options to track elements.
| | |
| --- | --- |
| Last Update: | November 18th 2009 |
| Author: | Sparkle Solutions, Inc. |
| Version: | 1.0 |
| User Rating: | 0.00 |
| Downloads: | 4 |
| License: | No key required |
| Requirements: | Works with all Symbian Phones and Java Enabled Phones |
| Support: | support@sparklesolutions.net |
| ID's: | HID: 263334, AAID: 26308 |
Author's Description
---
Periodic Table is an useful educational utility. It provides 20 most important Chemical information about each element in the Periodic Table. Elements can be tracked with respect to Element Name, Symbol, Atomic Number and Category. A Complete Educational Utility.
---
Following 20 Chemical Informations are provided for each element:


Element
Symbol
Atomic Number
Atomic Weight
Bonding Radius
Atomic Radius
Ionization Potential
Electronegativity
Density
Melting Point
Boiling Point
Heat of Vaporization
Heat of Fusion
Electrical Conductivity
Thermal Conductivity
Specific Heat Capacity
Group
Electron Configuration
Number of Isotopes
Polarizability

All elements are categorized with respect to group.
---
Search Elements:
Elements can be tracked with respect to Name, Symbol and Atomic Number.
Elements can also be filtered with respect to group.
Simple way to view the chemical information of elements after tracking.


| | |
| --- | --- |
| Track by Element Name | Track by Symbol |
Track by Atomic Number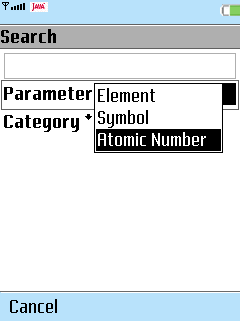 ---
Key Features:

Extremely Accurate Information.
Specifications are provided to recognize the nature and characteristics of the element.
Professionally and Newly designed user-interface that speeds up data verifications.
Pleasant Presentation of Report which carries all the 20 Chemical Information.
Elements can be tracked with respect to Name, Symbol, Atomic Number and Group.
---
Highly Useful Educational Utility
---
Compatible Devices
BenQ P30, BenQ P31, LG KS10, LG KT610, Motorola A1000, Motorola A920, Motorola A925, Motorola RIZR Z8, Nokia 3230, Nokia 3250, Nokia 3600, Nokia 3620, Nokia 3650, Nokia 3660, Nokia 5320 Xpress Music, Nokia 5500, Nokia 5700, Nokia 5800 Xpress Music, Nokia 6110, Nokia 6120, Nokia 6260, Nokia 6290, Nokia 6600, Nokia 6620, Nokia 6630, Nokia 6650, Nokia 6670, Nokia 6680, Nokia 6681, Nokia 6708, Nokia 7610, Nokia 7650, Nokia 7710, Nokia 9200 Series Communicator, Nokia 9210 Communicator, Nokia 9290 Communicator, Nokia 9300, Nokia 9500, Nokia E50, Nokia E60, Nokia E61, Nokia E61i, Nokia E62, Nokia E63, Nokia E65, Nokia E70, Nokia E71, Nokia E90, Nokia N-Gage, Nokia N-Gage QD, Nokia N70, Nokia N71, Nokia N72, Nokia N73, Nokia N75, Nokia N76, Nokia N77, Nokia N80, Nokia N90, Nokia N91, Nokia N93i, Nokia N95, Nokia N97, Nokia Series 60, Panasonic X700, Panasonic X800, Samsung G810, Samsung i7110, Samsung i8510 INNOV8, Samsung L870, Samsung SGH-i450, Samsung SGH-i520, Samsung SGH-i550, Samsung SGH-i560, Samsung SGH-i570, SendoX, Siemens SX1, Sony Ericsson M600i, Sony Ericsson P1, Sony Ericsson P800, Sony Ericsson P900, Sony Ericsson P910, Sony Ericsson P990, Sony Ericsson W950i
Categories for this Software
Submitting Software and Information
We are updating our submission process.
You can still get your software added by contacting us manually.