Mobile Weather (S60 3rd Edition)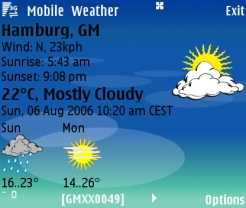 Free
Mobile Weather is a weather forecast client for S60 phones. Information from the Yahoo Weather API.
| | |
| --- | --- |
| Last Update: | August 14th 2006 |
| Author: | Dimitri Brukakis |
| Version: | 1.0 |
| User Rating: | 0.00 |
| Downloads: | 0 |
| License: | |
| Requirements: | |
| Support: | http://www.ubahnstation.net/projects/mweather/mweather.html |
| ID's: | HID: 0, AAID: 15735 |
Author's Description
Mobile Weather
is a weather forecast client for S60 Smartphones that shows the current weather situation of hundreds of cities anywhere all around the world. It is available for Nokia S60 Second Edition (FP2 and FP3) and Third Edition devices. See the list of supported phones and which installation package is needed for your phone at the end of this page.
Features
| | |
| --- | --- |
| | The detail view shows information about the current weather of a location. This view contains the current temperature and weather condition, the wind direction and speed and the time and date of the last update. The XML API used for Mobile Weather provides a forecast for today and tomorrow only. Maybe this will be extended in one of the next versions to a five day forecast. |
| | With Mobile Weather you can create a list of locations you like to know the current weather for. All locations in the list can be updated together. The overview list shows the current weather of all locations in the list. |
| | Mobile Weather comes with a huge database containing a long list of cities in many countries all around the world, thus no network traffic is necessary to find a location. Just select an area (like continent or part of continent), the country and the city within the country. The Mobile Weather installation packages contain most countries all over the world. This requires about 750KB of space in phone memory or on a memory card. Actual memory cards have more than 256MB of memory so this shouldn't be a problem hopefully. If necessary I can provide installation packages with only a subset of countries e. g. of Europe, Asia or USA. Please send an email to info (at) ubahnstation (dot) net. |
| | Location lists of some countries can be quite long thus scrolling through a list of hundreds of entries would be frustrating. But lists can be filtered. Just type some characters of the city you would like to add until have found it or until the list is short enougth for scrolling. |
| | Some parameters of Mobile Weather can be configured. The unit for degrees used for weather information requests (note: changing the unit will only have an effect when updating the loction list), the Internet Access Point to be used (GPRS/UMTS and WLAN Access Points are supported), close the connection after update or keep it open (select the option that best fits your data plan) and the update interval. |
| | Weather information of the locations in your list can be updated manually or automatically every 15 or 30 minutes or every 1 or 2 hours. When starting Mobile Weather in manual mode it will ask if the location list has to be updated. |
Compatible Devices
Nokia 3250, Nokia 5500, Nokia E50, Nokia E60, Nokia E61, Nokia E62, Nokia E70, Nokia N71, Nokia N73, Nokia N80, Nokia N91, Nokia N92, Nokia N93
Categories for this Software
Submitting Software and Information
We are updating our submission process.
You can still get your software added by contacting us manually.