Jabp Lite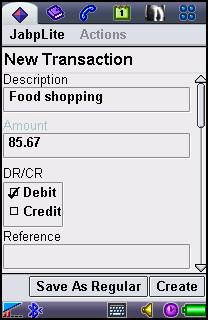 Free
Banking program for JME phones.

| | |
| --- | --- |
| Last Update: | January 22nd 2007 |
| Author: | Malcom Bryant |
| Version: | 1.18 |
| User Rating: | 0.00 |
| Downloads: | 0 |
| License: | |
| Requirements: | |
| Support: | http://www.freepoc.org/viewapp.php?id=58 |
| ID's: | HID: 0, AAID: 15751 |
Author's Description
The idea behind JabpLite has been to write a sophisticated personal finance program in Java MIDP which will work on a range of devices including Symbian phones and the Blackberry.  JabpLite has many features to help you keep track of your finances, for example:
Multiple accounts
Default and user-defined categories
Regular transactions (ie. save the transactions you do regularly)
Track your investments
Standing Orders (yearly, monthly, daily with any frequency), automatically generated on the due dates
Future Balance calculations (see if you will have enough money to last until pay day!)
Net worth calculation
Top ten expense categories (see where your money is going!)
Foreign currency accounts with automatic revaluation when FX rates change
and much more.
JabpLite comes with a sister program JabpBT, which allows smartphones running MIDP 2.0 to exchange data with a PC via Bluetooth.  You can import or export QIF files to work with other PC-based financial programs.  You can also backup your data and, when the time comes, move it onto your next phone!

An FAQ for JabpLite is available from here.
Compatible Devices
BenQ P30, BenQ P31, Motorola A1000, Motorola A920, Motorola A925, Nokia 3230, Nokia 3250, Nokia 5500, Nokia 6260, Nokia 6600, Nokia 6630, Nokia 6670, Nokia 6680, Nokia 6681, Nokia 6708, Nokia 7610, Nokia 9300, Nokia 9500, Nokia E50, Nokia E60, Nokia E61, Nokia E70, Nokia N70, Nokia N71, Nokia N72, Nokia N73, Nokia N75, Nokia N80, Nokia N90, Nokia N91, Nokia N92, Nokia N93, Nokia N95, Panasonic X700, Panasonic X800, Sony Ericsson P800, Sony Ericsson P900, Sony Ericsson P910, Sony Ericsson P990
Categories for this Software
Personal Finance, Budget & Expense, Other
Submitting Software and Information
We are updating our submission process.
You can still get your software added by contacting us manually.