The IntelliGolf Birdie edition software comes complete with all of the (1) P800 smartphone software, (2) Windows desktop/laptop software, and (3) Synchronization software you will need to improve your game, increase your winnings, and have more fun on the course. Scoring, Sidegames, Statistics, and Signature courses all-in-one. IntelliGolf: Golf's #1 Scoring Software!™
IntelliGolf now includes free access to 21,500+ digital scorecards via the Internet or wirelessly from your P800. Manual scorecard entry is a thing of the past with IntelliGolf. Hole yardages, par ratings, and hole handicaps are all included. Free course downloads save up to $19.95 per course as compared to other products. Plus, wireless course downloads are only 5Kb in size. Save money, save time, and save effort with IntelliGolf. Simply download your favorite course scorecard(s), enter the players, select your favorite wagering games, and tee off. It is that easy!
P800 Smartphone Software
Use the IntelliGolf smartphone software to automate "on course" golf scoring, add up your group's wagers, review game-improving statistics, and view color graphs on your pars, birdies, and eagles. IntelliGolf will even calculate your greens hit in regulation (GIR) for you. Plus, IntelliGolf now includes "dynamic screen expansion" providing the ability to handle up to five golfers (i.e. fivesomes) automatically. Now you will be able to score, wager and track results for up to five players for an unlimited number of rounds and courses.
The IntelliGolf smartphone software includes:
Automated golf scoring;
Handicap posting screen;
Color performance graphs;
Scoring for up to a fivesome;
Statistics for Par 3, 4, and 5s;
Access to thousands of courses;
Simplified course search menus;
Stableford and stoke play scoring;
Greens hit in regulation calculator;
USGA, EGA, and average handicaps;
Unlimited courses, players and rounds;
Sidegames (for wagering) including:

Skins;
Eagles;
Birdies;
Match play;
Skins validation;
British Stablefords;
Stoke play, and
Stoke differential.
IntelliGolf also includes the ability to enter your official USGA Handicap Index, EGA Index, Handicap (e.g. RCGA), or approximate a handicap for you. Under license from the USGA®, IntelliGolf will convert your official Handicap Index to a Course Handicap based upon its Slope® rating. At the end of your round, IntelliGolf will automatically compute your Adjusted Maximum Score for posting. No more charts and tables. IntelliGolf does it for you!
Desktop Software
As a Birdie edition customer you will also receive our powerful Windows-based PC software. It will synchronize to your P800 for uploading and downloading and unlimited number of players, rounds, and courses. Now you can approximate your handicap, track cumulative round statistics, print scorecards, and export round results in HTML format for posting to the web. In full color, view trend lines showing how your Total Score relates to putting, greens hit in regulation, and par or better scores. Now you can quickly spot areas of improvement and areas for improvement.
Imagine if you could play every hole to your full potential. IntelliGolf can help. In seconds, IntelliGolf will compare your best, average and worst scores on each hole for a selected course. It will then create a Dream Round™ scorecard for you. You will be amazed at how well you would score if you played every hole to your full potential!
The IntelliGolf desktop software includes:
Trend graphics;
Dream round scoring;
Historical round tracking;
IntelliCap handicap calculator;
Access to thousands of signature courses;
Scorecard printing plus web-based display;
HTML and XML export file capabilities, and
Game-improving statistics in 100+ categories.
Join golfers in 125+ countries worldwide that are using IntelliGolf to improve their game, increase their winnings, and have more fun on the golf course. IntelliGolf -- Golf's #1 Scoring Software!™. Get it today!
To view the full Quick Start Tour (i.e. screen shots) for IntelliGolf for the P800 please visit http://www.intelligolf.com/tour.asp.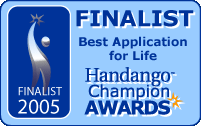 IMPORTANT: IntelliGolf for the P800 requires the free AppForge Booster 5 software to run. Please download and save the IntelliGolf file (igbird451_P800.exe) to your PC. Then, follow the instructions below to install the Booster software (first) and then IntelliGolf.
To download and install the Booster software, please visit http://www.intelligolf.com/downloadBooster.asp. Download the file named ConsumerBooster.NET_UIQ208.exe to your PC and note its location. Double-click on the downloaded Booster file and follow the on-screen instructions. After Booster has been installed onto you PC, you will need to install Booster onto your P800. To do that, click on your (Windows PC) Start button, then All Programs, and highlight the AppForge listing. Next, double-click on the Booster Install Tool (after placing your P800 into its cradle) and select your device (P800). Follow the on-screen instructions. Once the Booster software is installed, please double-click on the (saved) igbird451_p800.exe file to install IntelliGolf onto your P800 and PC. Just follow the on-screen instructions. Once IntelliGolf is installed, please visit www.intelligolf.com/tour.asp and take the IntelliGolf Quick Start Tour (on-line manual) for the P800. It will show you how to download courses plus cover many of the new features included into IntelliGolf. You will be golfing in no time. Have a great Round!
We are updating our submission process.