Chords (S60 3rd Edition)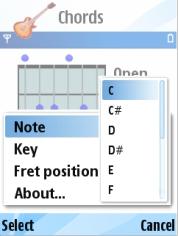 Free
Simple application for displaying guitar chords.

| | |
| --- | --- |
| Last Update: | August 14th 2006 |
| Author: | Dimitri Brukakis |
| Version: | 1.01 |
| User Rating: | 0.00 |
| Downloads: | 0 |
| License: | |
| Requirements: | |
| Support: | http://www.ubahnstation.net/projects/ |
| ID's: | HID: 0, AAID: 15733 |
Author's Description
How many times have I sat in the rehearsel room trying to find the correct finger positions on my guitar's fretboard for a chord, that my keyboarder wanted me to play in a special bridge. Normally I don't have a chord book in my guitar case, but I never forget my mobile phone (for the pizza order, you know :-D). So why not use the phone in this case also.

Chords for S60 is just a simple application for displaying guitar chords.

Just select a note, a key and a position on the fretboard and Chords for S60 shows you where to put your fingers. Nothing else.
Compatible Devices
Nokia 3250, Nokia 5500, Nokia E50, Nokia E60, Nokia E61, Nokia E70, Nokia N71, Nokia N73, Nokia N80, Nokia N91, Nokia N92, Nokia N93
Categories for this Software
Submitting Software and Information
We are updating our submission process.
You can still get your software added by contacting us manually.