Minitris is a tetris like game (must be something inthe water at the moment), and looks to be a faithful representation of one the worlds most famous games. Sure to help the time go by on your way to work. It can be purchased via
Handango
for $7.50.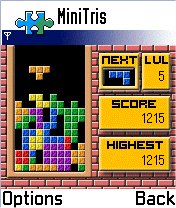 miniTris is an adaption of the classic game Tetris(tm), well-known for its long-time motivating game play.
Your task is to organize blocks of different shape in a way so they combine into complete lines without gaps. As soon as a line is completed, it is removed from the playfield, and all blocks above it slide down accordingly. The game is over when no new blocks can be created at the top of the playfield.
To enrich the gameplay, several options are available to increase the game's challenge for the player:
adjustment of start level
showing or hiding the next block to be inserted into the cube
initial number of partially filled lines that are already placed at the bottom of the cube when the game starts
automatically inserted lines, that are pushed in from the bottom from time to time
This is the ideal, addicting game for a short break from your work.