Super Miners
from Infinite Dreams (authors of Sky Force and Explode Arena) is a new game for Series 60 phones. You look for hidden treasures and power-ups over hundred levels. With options for single player or cross platform multiplayer via Bluetooth, online higher score system, excellent graphics and sounds the game represents excellent value for money.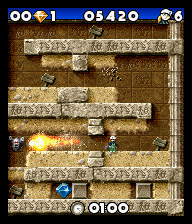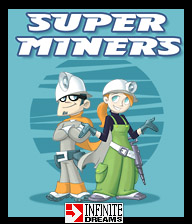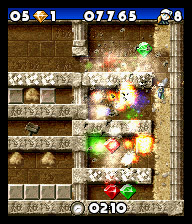 Features (from author):
1. GAMEPLAY
- singleplayer,
- multiplatform (Series60-PocketPC) mulitplayer via bluetooth up to 2 players! (cooperative and competitive modes),
- over 100 game levels.
- tutorial that will let you jump into the game easily,
- exciting new game features such as fireball, magic ball, teleports, ghosts portals and many others ,
2. HIGH QUALITY 2D GRAPHICS ENGINE
Amazing graphics and visual effects including:
- plenty of blended sprites,
- huge transparent explosions,
- dynamic lighting, shadows,
- advanced particle system (fire, smoke, sparks).
3. MULTICHANNEL AUDIO SYSTEM
Multichannel audio system with high quality original soundtrack and plenty of ingame sound effects.
4. ONLINE HIGHSCORE SYSTEM
Playing games is fun, isn't it? But it's even more fun when you can compete against other people from all over the world. SuperMiners let you send your highscores to our website and compare them with others