ExeMaster
is a
Symbian Os S60
smartphone utility to add autostart function for all applications installed on the device. It brings most necessary functionality to adjust your phone's boot up. You can define applications to be run when you switch your phone on. Specify run type and add special parameters for each application you want to be automatically started, enable or disable certain app auto-run.
Main functions of the application are:
* Possibility to specify application to autostart with operating system load;
* Possibility to specify type of autostart for each application;
* Indicate parameters for program loading process;
* On-the-fly localization switch;
* Handy and useful management of the application list;
* User friendly interface.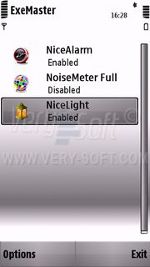 Download ExeMaster