Online data storage VS offline data storage: Do we really want a Ken Dodd internet?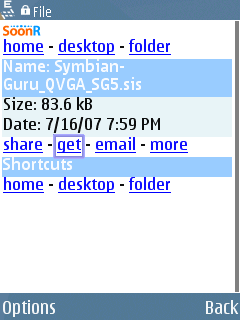 All About Symbian recently ran a review of a service called SoonR, which (amongst other things) lets you store files such as music and photos online, so you can access them from any device. One AAS reader made a very interesting comment about such services in general:

"I actually regret the idea of having my data/files transferred via a network. The reason is simple: I don't trust the network carriers, and I don't trust the service providers offering online storage. ... I like my personal storage big, offline and physically only reachable by myself."

This is typical of many internet users today, who scorn web-based services in favour of computer-based or phone-based clients and data storage.
The theory goes that web storage providers are usually huge faceless corporations whose existence is solely to make a profit, and so many tens of thousands of people work in these corporations that it would only take a few bad apples to cause a security breach. Either that, or they're tiny fly-by-night companies which will be here today and gone tomorrow, along with all of your data.

Obviously, these are perfectly reasonable fears, as corporate crime does take place, and breaches of security involving sensitive information happen on a regular basis. But should we let these fears dictate the way we store our data? Is storing data yourself really a superior option?



Ken Dodd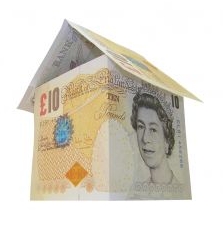 Readers who are very young and/or unfamiliar with the UK comedy scene have probably never heard of Ken Dodd. He's a famous Liverpudlian showbiz veteran who is well-known as a comedian, comic actor and singer, with a string of hit singles back in the 1960s and regular television appearances since then.
Unfortunately for Mr Dodd, despite his distinguished career he is almost as famous for being charged with tax evasion in 1989. The trial revealed that he held a very old-fashioned view of banks: he didn't trust them at all. Throughout his career he had simply hoarded £300,000 in cash in suitcases at home, never depositing any of it in any kind of account or investment. He apparently just prefered to keep his entire wealth in the form of physical notes.
As Dodd hadn't actually spent or even invested the cash, the jury accepted his explanation that he wasn't trying to get rich through tax dodging, and that he was just scared of letting his cash be stored virtually as a number in a bank computer. He was found Not Guilty.

Now, let's go back to that reader's earlier comment about online data storage, but change it a bit:

"I actually regret the idea of having my money transferred via a network. The reason is simple: I don't trust the transaction systems, and I don't trust the banks offering bank accounts. ... I like my money in cash, physically only reachable by myself."

These words could easily have been used by Dodd at his trial.



What's wrong with keeping savings in cash? What's wrong with storing data at home?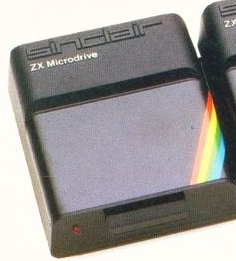 There's quite a lot wrong with cash, actually. Cash is convenient and anonymous, but it's also incredibly fragile: if it's stolen you have no way of getting it back, or even proving you had it in the first place. If it's physically destroyed, it's gone forever.

Burglaries are far more common than bank collapses. If people usually stored their entire wealth in cash at home, burglaries would shoot up as even a single successful crime could be worth tens of thousands.
Even ignoring criminals, there are many Acts of God which can destroy cash such as house fires and floods. Again, these are far more likely than a bank collapse.
All of these faults apply to data too: computing devices get stolen, and they get damaged. No device or storage medium is immortal, sooner or later it will fail.
What's more, data suffers from an extra problem: the means of storing it can become obsolete and unsupported in as little as a few years. It may be that you store all your data on media for which players are no longer manufactured, so when your player breaks down you have no way of accessing the data. The BBC famously became a victim of this with their Domesday Disks project, and had to go to extreme lengths to retrieve their valuable but unreadable data.



Banking is best...

If you put your cash in a bank it's very unlikely to suffer any of the fates above, because it's being looked after by professionals who make their living from looking after money 24 hours a day. Yes, occasionally there's fraud or incompetence, but on the whole it's very rare that anyone permanently loses all their money from a bank account. Even if a bank collapses, most governments in rich stable countries have compensation schemes which can recover most or all of the account holders' money, or will bring in such schemes when a bank looks threatened.

If you put data in an online storage system, in theory at least it's also safer: people might steal computers from homes but not servers from data centres, and in any case data centres have off-site backups. The data centres are also usually located in buildings that are protected from natural disasters, and tended by professional engineers. To cap it all, the hardware is regularly upgraded so that the storage medium on which the data resides is never obsolete.


...although data isn't as safe as cash.

Of course it's not quite that simple. Anyone can buy some servers and start offering data storage services, and there are fly-by-night companies out there who may disappear without a trace leaving your data gone forever. Even the large companies can make colossal mistakes, and security on the internet is also a worry. But this kind of thing was true of banking in its early days, when there was very little government regulation and very little security to prevent theft and fraud. Banks evolved though, they got better, more professional and formed a long-term view, while disasters like the Great Depression convinced governments to regulate banks properly.

The UK bank Northern Rock recently hit the headlines as it seemed to be having financial difficulties due to the current US "sub prime" mortgage crisis. The British government responded by guaranteeing 100% of all Northern Rock account holders' money, so even if the bank had become insolvent its customers' cash would have been safe.


Will data storage companies become more reliable and regulated, the way banks did?


Will governments one day police data storage companies the way they currently police banks? On the one hand it seems unlikely because personal data usually consists of things like photos, music, videos etc, none of which are important to the economy in themselves. On the other hand, this kind of storage is still very new, so it's unclear how much we will value it in the future. It may become much more important to us than it is now.

Cheap, high quality digital cameras have only really been available for about five years, so most people will only have about five years worth of digital pictures at most. What will happen when people have twenty or fifty years worth of photos to store? Add in video and audio to the mix, and it may be that digital data storage will become a big issue in the future. Not only will people want to keep this data safe for sentimental reasons, they will probably also want to keep it secure for reasons of privacy.



And then there's the mobile phone: never before have so many people owned cameras and camcorders, never before have so many people carried cameras with them everywhere, never before have people had so much portable data storage space to play with, and never before has it been so quick and cheap to "process" the photos. If people want to take pictures or shoot video, there's almost nothing to stop them any more.

There's also a powerful argument for preserving as much data as possible for historical reasons: when everyone carries a camera and camcorder in their pocket, the age they live in will be documented in unprecedented detail. Instead of just metaphorical points of view, we will be able to view history from real people's actual physical points of view. We've had a taste of this in recent events such as the London bombings in July 2005, where amateur photos and videos taken on mobile phones dominated the news bulletins.


Whatever happens, it would be nice if the integrity of consumer data storage was overseen by someone more neutral than Google, Microsoft or Yahoo. A neutral regulator might actually benefit these storage companies, because it would build confidence in the whole concept of keeping your data in a bank rather than a suitcase.