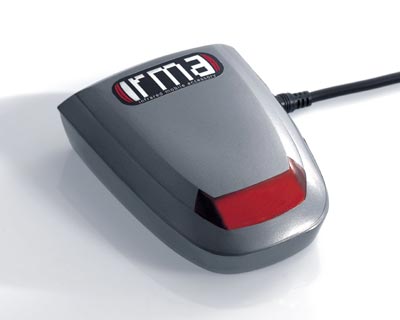 Flander have announced this rather interesting device for the 9210. Basically the device looks like an IR pod, but its not. Although it does receive data over IR the intention is that the device then transmits this via a VGA cable to some sort of display device (either a monitor or a projector). It works by transmitting .jpg file (JPEG) to the box and then these are sent to the display device.
The unit comes with software to enable converison of Powerpoint software, but many other presentation packages also allow outputting to .jpg files of individual slides. The purpose of the device is to enable the Nokia 9210 to run presentations. This means you no longer need to take a laptop or other computer along with you. It seems most ingenious if somewhat limted to me. (e.g. why couldn't you run it off the serial port [or indeed keep the iR] and have the box convert it to a signal so it could be used as a true VGA output - then you could have constant updates from the 9210 - something similar to the Psion Series 7 GA PC Card?). Having said that this is a very nice device... and it weighs only 175g and is less than 10cm x 10cm and is about an inch thick!
Anyway the website describes the device thus:
Irma™ - the Infrared Mobile Accessory is a concept which enables you to show professional PowerPoint® presenta tions without a laptop computer. To show a presentation using Irma™, you must first convert it with Windows software (included) and store it in your Nokia 9210 Communicator. After this you simply connect the Irma™ to a data projector or a monitor and show your presentation.
Technical specifications:
size: 99x 90 x 25 (mm)
weight: 175 g
power: uses battery charger as a power supply
one Infrared port for communication with Communicator
one VGA port for data projector connection
The infrared port of Irma™ is capable of receiving data at 4Mbit/s. Bur a normal slide is transferred within 1 to 5 seconds, given that Nokia 9210 is sending data at 115 kbit. Apparently any size slide is supported so showing on large moinitors wouldn't be a problem either. Rather cheeckily they claim the slides are editable, but only as JPEGS!
The price seems fairly reasonable to with the website quoting 269 USD / 299 EUR each (thats about £150). Expensive for some, but probably a drop in the pond for the corporations this device is aimed at.
The website also rather tantalising promises more products soon. Is Irma the first of a long line of accessory products for ER6. It would certainly be nice to think so, after all Psion ER5 users have got use to having very few expansion option save for Psion offerings.
More information at http://www.corporatekeys.com/index.html.