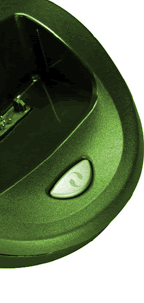 Power Management
Advanced Desktop Stand DCH-10 (pictured left)
- A convenient way to charge and connect your communicator.
- Use together with Performance Travel Charger ACP-9
- Provides easy connection to a computer for data transfer using either Adapter Cable DLR-2L or infrared.
- By pushing the synchronization button on the stand you can easily synchronize calendars and other data between the communicator and the PC.
High Power Battery BLL-3
- Slim high-power 1300 mAh Li-Ion battery.
- Powerfull and durable. Talk time 4
- 10h, standby time 80-230 h (phone on).
ACP-9 Performance Travel Charger
- Very handy and lightweight charger
- Powerful multivoltage charger
ACP-12 Travel Charger
- Small multivoltage charger for fast battery charging. Suitable for active travelers.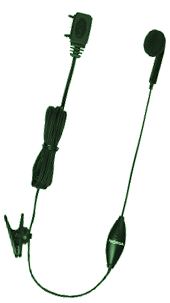 Wearables
Headset HDC-8L (pictured right)
- Simplest possible handsfree solution.
- For easy operation, this headset is provided with remote control for answering and terminating calls.
Belt Clip BCH-17
- Offers a handy way to carry your Nokia 9210 Communicator conveniently on your belt and to keep it at hand.
- Easy to use
- just click the communicator on and off.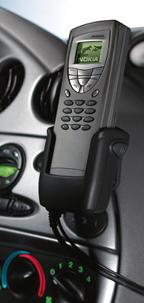 Vehicle Accessories
Advanced Car Kit CARK-109 (pictured left)
- Provides convenient handsfree operation and easy charging in car environment.
- Includes compact car holder designed specially for Nokia 9210 Communicator.
- External speaker and handsfree microphone provide high quality audio. An optional Handset HSU-1 for privacy can be installed, and connectivity to a compatible PC is available using RS-232 Adapter Cable DLR-2L.
- This kit includes: Advanced Active Car Holder CRM-1, Advanced HF Unit HFU-2, Microphone HFM-8, External HF Speaker HFS-12.
Mobile Charger LCH-9
- Multivoltage charger
- Plugs into the cigarette lighter and enables that your phone is ready to use, even when the battery is flat.
AMD-2 Antenna Set NMT/GSM 900/1800
-External Antenna improves reception and increases the operating range of your Nokia phone.
Handset HSU-1
- This audio handset allows you to talk privately in your car environment.
Mobile Office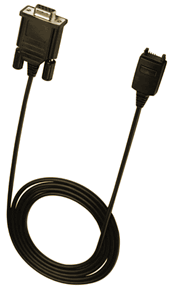 Memory Card
The postage stamp sized Memory Card provides removable storage for the Nokia 9210 Communicator and increases the available memory for data and software applications.
With the Memory Card you can load new applications to the Nokia 9210 communicator and save files such as images, wav sounds, faxes and documents.
RS-232 Adapter Cable DLR-2L (pictured left)
- Adapter cable provides convenient computer connectivity for data transfer with Nokia 9210 Communicator.
- Connects to the RS-232 serial port of a compatible computer.
- Can also be used with Advanced Desktop Stand DCH-10 or Advanced HF Car Kit CARK-109.
LAM-1 GPS Module
- Easily track your location and destination with the Nokia GPS Module, wireless positioning module based on Global Positioning System (GPS).
- Attach the Nokia GPS Module in your Nokia 9210i Communicator and install a compatible location software and navigate freely in various European cities, using street level address finder and route guidance.
- External GPS antenna for indoor use
- Travel route planning and instructions in text and graphics
- No additional batteries needed
Additional Information